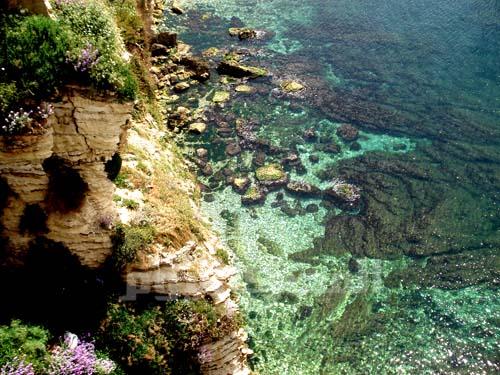 After a protracted peaceful period of time, Lebanon has recently become a tourist magnet, recommended by the New York Times as the first place to visit among 44 best destinations worldwide. Besides its well-known, vibrating nightlife, Lebanon encompasses must-see attractions that would undoubtedly make you put on your sneakers and hit the road.
Jeita Caverns
The journey to reach Jeita Caverns — whether the upper or the lower — is an adventure in itself. The journey kicks off with colorful cable car ride to the upper cave passing a vast green area blanketing the steep mountains. The moment you step inside, solidified sculptures, createdby mineralized water over the past decades, will leave you speechless.
While moving along the maze of narrow walkways, just let your imagination soar and the sharp stalactites hanging down from the ceiling and stalagmites emerging from the ground can miraculously turn into sumptuous shapes. After your tour in the upper cave, a tourist train comes every 10 minutes to drive visitors to the lower one. Small boats are only allowed inside to navigate the shallow water that turns the weather a little chilly even in summer.
Rock of Raouche
Rock of Raouche is another natural wonder standing gloriously in the sparkling turquoise waters of the Mediterranean. An upscale neighborhood in the capital is named after the iconic rock for its immense popularity among tourists and locals alike. Along the Corniche of Beirut, a handful of cliff-side coffee shops and restaurants are lined up overlooking a spectacular view of the two huge rock formations.
It is a tranquil destination where some people clear their mind and sink into the inspirational natural beauty, while others stop for a cup of coffee and chat. Whatever takes you there, you can't resist posing with the magnetic landmark for an unforgettable memory.
Faraya Mountain
Whether skiing is your favorite sport or you prefer a laid-back day trip in an effortlessly exquisite atmosphere, going up to Faraya Mountain is an experience that should not be missed, especially if you are visiting Lebanon in winter.
It is just an hour drive from Beirut, but the voyage to reach the hills offers an opportunity to get a different glimpse of the country. Driving on a narrow road with a scenic view, you can see long slopes crammed with houses that are surrounded by huge fields of ice appearing as if flooding over snow.
When viewed from a distance, the tip of the mountain looks like it is dressed in pure white, which is a real pleasure for the eye. If you have never been skiing before, taking a snowmobile ride is easier to maneuver, but a little pricier.
Deep in the heart of the mountain lies a coffee shop with a sunny front terrace. Though it is the only place to relax for light snack, it is poorly furnished and needs to be renovated; however, the breathtaking view and the friendly staff make up for that.
Shop till you drop
Perhaps shopping has always been viewed as an indispensible part of a visit to Lebanon because of the wide array of stores, from world-famous brands to unique local boutiques. For those who love to get dressed up, Beirut is the perfect place for pursuing elegance characterized by an 'out of the ordinary' touch.
Hamra Street, located in the heart of the capital, is famous for its long lines of stores that stretch on both sides. This street is usually packed, especially on weekends, when many restaurants and coffee shops open their doors until late at night.
Take a walk in 'Beirut Souqs' in the Solidere neighborhood, where tall, modern architecture has replaced most of the buildings that were ruined in the bitter civil war. Known as Souq al-Tawileh before reconstruction, the luxurious commercial district is the country's largest shopping area, featuring more than 200 chi-chi boutiques, including haute-couture houses.
Located on Dora highway, City Mall is a shopping complex where time flies in a blink of eye. Enjoy a full day, choosing your favorite chain restaurant, watching a movie and taking a tour in major stores. ABC Mall is another retail center established in Hamra. It offers the same kinds of services as City Mall with smaller number of stores, but a good mix of different choices.