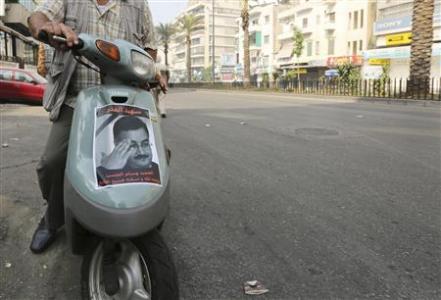 Lebanese Prime Minister Najib Mikati said on Saturday he suspected the assassination of a senior Lebanese intelligence chief was linked to his role in uncovering Syrian involvement in an earlier bomb plot.
As fear and anger gripped Lebanon over Friday's car bomb attack, Mikati also said the president had asked him to stay in his post despite his offer to resign and make way for a national unity government.
In the streets of Beirut and other cities, gunmen and demonstrators blocked roads with burning tires to protest against the killing of Brigadier-General Wissam al-Hassan in the explosion in the capital on Friday afternoon.
Lebanese politicians have accused Syrian President Bashar al-Assad of being behind the attack, deepening fears that Syria's sectarian-tinged civil war is spreading to its neighbor.
The opposition March 14 bloc had called for the government, which includes ministers from the Shia militant group Hizbullah, which is close to Assad, to step down.
Mikati, speaking at a news conference at the presidential palace, stopped short of blaming Assad directly.
But he said he suspected the bombing was related to the indictment in August of former minister Michel Samaha, a supporter of Assad, over a plot allegedly aimed at stoking violence in Lebanon.
"A prime minister does not anticipate investigations, but quite honestly … I cannot separate in any way the crime that took place yesterday and the discovery of the conspiracy against Lebanon in August," he said.
The slain Hassan had helped to uncover the bomb plot, which fuelled sectarian enmity in a country where the balance between religious groups is fragile. He also led an investigation that implicated Syria and Hizbullah in the assassination of former Prime Minister Rafik al-Hariri in 2005.
Lebanon's religious communities are divided between those that support Assad in Syria's civil war and those that back the Sunni-led rebels. Lebanon is still recovering from its own 1975-1990 civil war, and the assassination threatens to bring a new bout of instability and bloodshed.
"Today, I am saying more and more that there should be a national consensus government," Mikati said. "The cabinet will eventually resign, but at the moment we must take a national stance, and I call on the Lebanese to unite together."
Guns in the streets
Squads of armed men gathered in the northern, mostly-Sunni city of Tripoli, where pro- and anti-Assad factions have clashed repeatedly this year.
In Beirut, troops reinforced road junctions and official buildings but many roads, including the highway to the international airport, were blocked by demonstrators.
Soldiers and police guarded street corners in Beirut's Ashrafiyeh area, the mainly Christian district where the bomb exploded during rush hour, and at Martyrs' Square in the center.
In Beirut's Sunni Muslim areas, where most people are opposed to the Alawi Assad, cars mounted with loudspeakers cruised the streets issuing calls for the government to resign.
Dozens of gunmen were in the streets and the mood was tense, witnesses said.
In the northern city of Tripoli, four people were wounded on Saturday by sniper fire on Jebel Mohsen, a neighborhood which is home to members of Assad's minority Alawi faith.
A pro-Hizbullah religious figure was killed in clashes in Tripoli on Friday night, residents said.
Lebanese soldiers opened fire on a group who took over a road in the Beqaa Valley, wounding two people, witnesses said. Rallies were also held in the southern town of Sidon.
"Huge blow"
The late Hariri's son, Saad al-Hariri, also accused Syria's Assad of being behind the bombing, which killed at least eight people and wounded more than 80. Saudi Arabia, a close ally of the late Hariri and opponent of Assad, said it was an attack on Lebanon's security and stability.
The head of Lebanon's Internal Security Forces, Major-General Ashraf Rifi, described Hassan's death as a "huge blow" and warned that further attacks were likely.
"We've lost a central security pillar," he told Future Television. "Without a doubt, we have more sacrifices coming in the future."
Druze leader Walid Jumblatt, whose party still formally supports Mikati's government though he is bitterly critical of Assad and Hizbullah, said Hassan's death left Lebanon unsafe.
"He was our protector. This is a harsh blow but we will not be scared and we should not accuse anyone inside Lebanon so we don't give Bashar an excuse to seize the country," he said.
Lebanon's mufti, the senior Sunni religious figure, announced three days of mourning for Hassan. He will be buried with full honors on Sunday.
Hassan, who had returned to Lebanon on Thursday night from Germany, had helped to uncover many assassination attempts against anti-Syrian figures in Lebanon and had himself escaped several attempts on his life.
Two Syrian officers, including General Ali Mamlouk, the head of Syria's national security bureau, were indicted along with Samaha, Lebanon's former information minister, in August over the plot.
The indictments were an unprecedented move against Syria, a dominant player in Lebanese affairs for decades. Syria sided with different factions during the 1975-1990 civil war and deployed troops in Beirut who stayed until 2005.
As well as being the brains behind the Samaha investigation, Hassan led the investigation into Rafik al-Hariri's murder seven years ago and uncovered evidence that implicated Syria and Hizbullah, though both deny involvement. An international tribunal accused several Hizbullah members of involvement in the murder.
Despite the accusations from Lebanese politicians, both the Assad government and Hezbollah condemned the bombing. Syria's information minister called it a "terrorist act."
The bombing also heightened concern among Western powers – who have strongly criticized Assad and called on him to quit – that the Syrian war could ignite conflict across the region.
More than 30,000 people have been killed in Syria since a Sunni-led popular uprising against Assad, a member of the Shi'ite-linked Alawi sect, broke out 19 months ago.
US Secretary of State Hillary Clinton said Hassan's killing was "a dangerous sign that there are those who continue to seek to undermine Lebanon's stability."
Iranian Foreign Minister Ali Akbar Salehi, whose country is a powerful backer of Assad and Hizbullah, condemned the bombing and said he planned to visit Beirut.