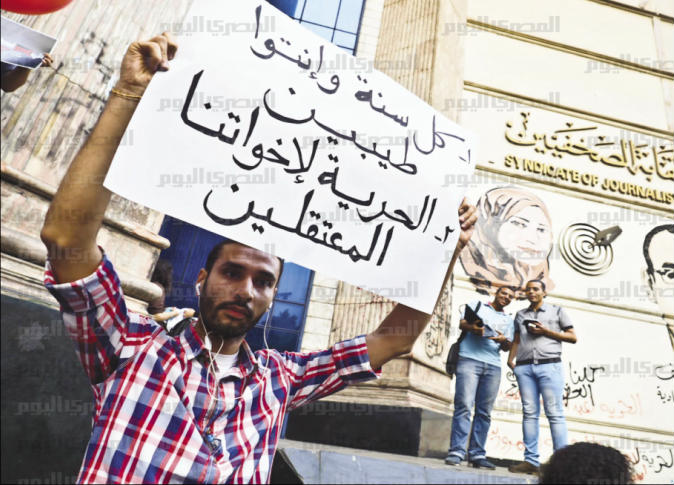 Violations on journalists increased by 68 percent, according to the association for the freedom of thought and expression's midyear bulletin. At least 170 journalists or photojournalists were subjected to violations by the end of June 2015, compared to 116 cases by the beginning of May 2015.
These violations included arrests, illegal detention, physical abuse, prevention of field coverage and enforced suspension of work. It also included storming the headquarters of various press and media institutions.
"The last six months saw at least 85 journalists prevented from field coverage, 34 cases of physical abuse and 20 cases of enforced work suspension and illegal detentions across the state," the bulletin said.
The violations took place with greater regularity in Cairo, followed by Giza and Alexandria.
The source of the violations differed, as about 91 cases of journalists were subjected to violations by security forces, while 25 cases were assaulted by government officials, apart from private security guards who have abused 24 journalists and photojournalists.
The bulletin comes two weeks after a meeting was held by members of the Journalists' Syndicate who discussed the fierce security attacks on journalists and the continued attempts to suppress journalistic freedoms. The syndicate has called on President Abdel Fattah al-Sisi to release all arrested journalists.
Field Coverage prevention
The most notable incident of coverage prevention is when security personnel from the Al-Gharbia governorate prevented journalists and correspondents from entering the new 57357 cancer hospital in Tanta city during the prime minister's tour. No reasons were given for those actions.
Assaults
The story of Mohammed Marae, the editor-in-chief of the "AlSada AlMohtramon" talk show, is top on the list of physical abuse cases. While on his way to work, he was stopped by police. When he identified himself as a journalist, a police officer grabbed his cell phone, physically and verbally assaulted him and threatened him with arrest.
Arrests
On the eve of Press Freedom Day, security forces stormed Ahmed Kaoud's home, destroying his furniture. His phone was then confiscated when he tried to film the scene. He was then arrested.
Moreover, Egypt Independent reported on Wednesday, June 17 that Egyptian national security forces arrested Mohamed Battawy, a journalist for the Akhbar Al-Youm newspaper. He was not charged.
"At dawn the police suddenly stormed our home searching every space, then they arrested my son with no clear charges and confiscated the laptops," said Hussien Battawy, Mohamed's father, according to the Center for Defending Freedom of Journalists.
Mohamed Battawy