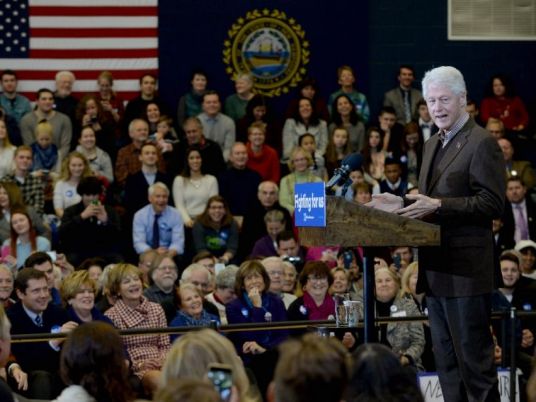 A hacked memo released by WikiLeaks has shed light on how Bill Clinton profited — to the tune of tens of millions of dollars — from work channeled to him by an aide who also worked for the family's charitable foundation.
In the 2011 memo, Clinton aide Douglas Band said he personally provided the former president with more than 50 million dollars in "for profit" activities while he was leader of the foundation.
Band detailed his own moneymaking efforts both on behalf of Clinton personally, and of the foundation, in a network of activity he called "Bill Clinton Inc."
The latest disclosures have added to a drip-drip of WikiLeaks revelations plaguing Hillary Clinton in the final stretch of her run for the White House as the Democratic nominee.
They come from a trove of email stolen from the account of John Podesta, who played a leading role in the foundation before becoming Clinton's campaign chairman.
Podesta has refused to authenticate the emails, which US intelligence believes were stolen by Russian hackers to disrupt the US elections. But neither he nor the Clinton campaign has challenged their authenticity.
They show the foundation had become a source of tension between aides to Bill Clinton and his daughter Chelsea, who accused them of taking "significant sums of money from my parents personally" and hustling clients for their own business at foundation events.
Band's memo was sent in response to complaints by Chelsea Clinton.
In it, Band defends his use of his private consultancy Teneo to raise funds for the foundation, saying it brought in large corporate donations from Coca-Cola, Dow Chemical, and Swiss bank UBS among others.
"Independent of our fundraising and decision-making activities on behalf of the Foundation, we have dedicated ourselves to helping the President secure and engage in for-profit activities — including speeches, books, and advisory service engagements," said.
"In support of the President's for-profit activity, we also have solicited and obtained, as appropriate, in-kind services for the President and his family — for personal travel, hospitality, vacation and the like."
He said he had received no fees or percentages of "the more than $50 million in for-profit activity we have personally helped to secure for President Clinton to date or the $66 dollars in future contracts, should he choose to continue with those engagements."
– Campaign aides worried –
The foundation, with its big foreign donors like Saudi Arabia and the United Arab Emirates, has been a prime target of Republican nominee Donald Trump.
Republicans have accused Clinton of giving big donors favored access when she was secretary of state from 2009 to 2013, but no evidence of conflicts of interest has emerged in the emails.
Clinton campaign aides were worried, however, that the foundation's activities could present a problem for the former secretary of state as she ran for president.
In January 2015, campaign manager Robby Mook asked whether Clinton would take part in a foundation-sponsored conference in Morocco several months later, as she was launching her campaign.
"This was HRC's idea, our office approached the Moroccans and they 100 percent believe they are doing this at her request. The King has personally committed approx $12 million both for the endowment and to support the meeting," Clinton aide Huma Abedin wrote back.
"It will break a lot of china to back out now when we had so many opportunities to do it in the past few months," Abedin said, adding: "She created this mess and she knows it."
In the end, only Bill Clinton and daughter Chelsea attended the conference.