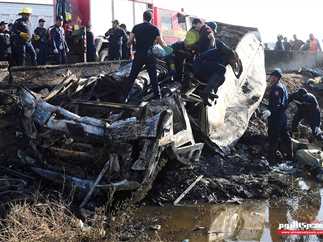 Manpower Minister Mohamed Saafan instructed on Friday ministry officials to ensure that the Egyptian German Porcelain Company in Alexandria will disburse of a LE50,000 compensation for each family of the company workers who were burnt to death in a tragic bus incident in Alexandria on Saturday.
Nine laborers working in the Egyptian German Porcelain Company as well as the driver of the bus died in the incident.
Saafan said that he received an urgent report from Hassan Raddad Ibrahim, Director of the Alexandria Manpower Department, in which he confirmed that chairman of the board of directors of the Egyptian German Porcelain Company in Alexandria announced the disbursement of grants worth LE50,000 to the families of all the deceased.
The company also pledged to pay all other legal rights to the families, according to Saafan.
The minister added that 13 injured laborers were treated at hospitals and left, while six others continue receiving treatment. The company will transfer them to private hospitals to be treated at their own expense, the minister said.
The traffic accident occurred last Saturday, as the workers were heading from Kafr al-Dawar to their work site. The bus fire killed 10 people and injured 20 others.
Edited translation from Al-Masry Al-Youm