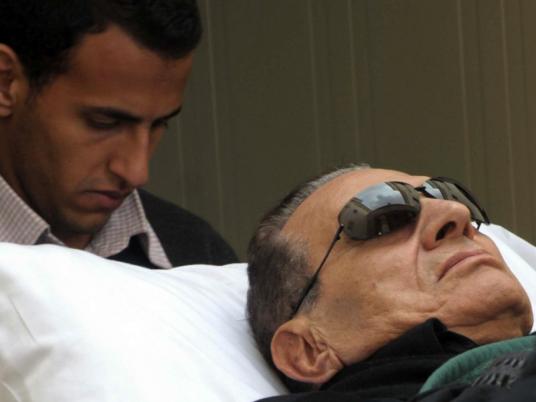 Former president Hosni Mubarak has cost Egypt's budget billions of Egyptian pounds since he stepped down last year, according to a prominent lawyer. The money is being spent on his accommodation, transportation, security and court costs.
Abdel Moneim al-Sayed, a former judge and currently a lawyer with the Cairo-based International Arbitration Center, has said that he estimates Mubarak's transport costs and the salaries and bonuses of his security detail between the outbreak of the revolution on 25 January 2011 and his departure from office on 11 February that year to have been LE220 million.
Sayed added that the total costs of the international calls the former president made in the same period reached LE3.5 million, while the cost of transportation for officials who visited the presidential palace during the 18-day uprising was LE3.5 million.
The lawyer's estimates also include the economic losses incurred by the state due to the blocking of internet and telecommunications services during the days of the revolution — these amounted to LE1.5 billion.
Sayed said that the costs of Mubarak's stay at Sharm el-Sheikh International Hospital were LE175 million. Moreover, transport for the investigation team in the same city during Mubarak's 174-day stay there were LE15 million
The lawyer said that the sit-ins organized by Sinai citizens to protest Mubarak's stay in the Sharm el-Sheikh hospital cost the state LE30 million. The losses of Sharm al-Sheikh's tourism sector during the same period were LE2.5 billion, he added.
He estimated that Mubarak's flights and escort from Sharm el-Sheikh to the court in Cairo cost LE300 million, while the costs of transportation from the military-run International Medical Centre to the court for the 25 sessions held of his trial were LE25 million.
The lawyer estimated the costs of security for the ousted president at LE12 million, while transport and security for those members of his regime being tried over the 25 court sessions cost LE6 million.