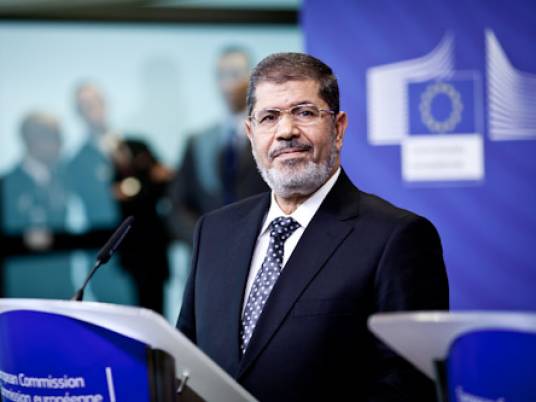 Abdel-Moneim Abdel-Maksoud, lawyer for the family of former President Mohamed Morsi, stated that Morsi's sons Abdallah, Omar, Ahmed, Ossama, alongside his daughter and brother, were allowed to attend preparations for the burial of the late ex-president, who passed away during his retrial over espionage charges on June 17.
Abdel-Maksoud said that he headed to the Tora Prison Hospital to attend preparations for Morsi's burial. Ossama was allowed to leave his detention to attend, the lawayer added.
Eleven people, including family members, were allowed to perform prayers for Morsi at the prison's mosque before his funeral at al-Wafaa wal Amal graveyards in Nasr City, Cairo.
He was buried under heavy security guard at five am on June 18, Abdel-Maksoud said.
Morsi, 68, and 23 others, were on a retrial Monday over charges of espionage for Hamas.
The session extended for three hours during which the court listened to Morsi's lawyers.
Morsi then requested to speak, saying: ""I would like to thank the defense panel for their efforts, and I want to stress that the case is not within the jurisdiction of the court as I am the legitimate president of the republic".
The court adjourned the hearing, after which Morsi was reported to be have fainted. He just died before being transferred to hospital.
The court postponed the trial of 24 Muslim Brotherhood members, including Morsi, in the same case to June 29 and asked the prosecution to officially submit the death certificate of Morsi.
The Court of Cassation earlier canceled a death sentence for the former president and 21 others over the same case, ordering a retrial.
Edited translation from Al-Masry Al-Youm