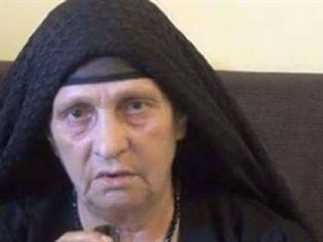 Souad Thabet, 74, known as the "Lady of Karam", said in press statements on Tuesday that she still awaits a verdict for those who stripped her naked during riots in the village of al-Karm in May 2016.
Her statements came after the Minya Criminal Court issued a ruling sentencing ten defendants to five years in prison over the riots and arson of Coptic homes. 
The violence broke out against the background of a rumored love affair between a merchant and a housewife.
Fourteen other defendants in the case were acquitted due to the lack of evidence.
Thabet, known as "The Lady of Karam", clarified that the ruling issued on Tuesday was not for stripping and insulting her, but for vandalization and arson. 
"My case has not yet been decided," she said.
"I wait for God's justice and live in the hope of obtaining my rights, and if the defendants are sentenced to 100 years in prison, it does not compensate for the displacement of me and my family," she continued.
She pointed out that despite the hardship brought on by the incident, she did not care as God is able to compensate her and her family. She did however add that she was saddened to have her dignity, humanity, and honor insulted. 
"My voice has reached the whole world, and since the incident I have left my village. We live in another place now, even though we were a peaceful family in our village where we were born and where our children grew up," Thabet said.
A legal source said that among the ten defendants sentenced to prison, two had previously been tried in the case of stripping Thabet.
The incident dates back to May 2016, when violence erupted between Muslims and Copts, in the village of Karam, due to the rumored affair between a young Christian man and a Muslim housewife, after which an elderly woman went to the police station to file a complaint against three men for stripping her of her clothes in the street.
The three defendants were Nazir Ishaq, his brother Abdel Moneim Ishaq and their father Ishaq. They were referred to a criminal trial, and sentenced in absentia on January 11, 2020 to ten years in prison, but were acquitted in a retrial.
The defense team of the victim submitted a complaint to the Minya Criminal Court, to demand a re-investigation, and the complaint was accepted.
Edited translation from Al-Masry Al-Youm