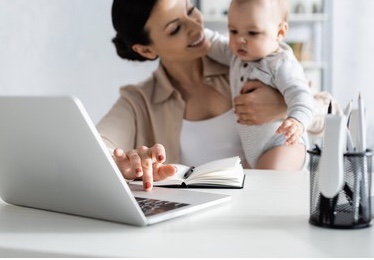 The "Sayedat Masr" (Ladies of Egypt) initiative launched an e-campaign – the first of its kind in the country – to support and promote remote work and more flexible working hours for women.
The campaign addresses the challenges facing working women and the benefits that business owners and society can reap from promoting flexible working hours and remote work.
"Our goal in the campaign is to raise society's awareness of the need to embrace working women and respect their social conditions instead of forcing them to quit their jobs or creating obstacles in front of them," Radwa Hosny, the campaign's coordinator, told Al-Masry Al-Youm.
The team of "Sayedat Masr" initiative are all from different cities inside and outside Egypt, which Hosny said was perhaps the best example of the productivity of remote work.
"Being an Egyptian woman, working remotely is the best way for me to balance my work as a content writer with completing my academic studies," she added.
This campaign does not call on all women to stay at home, she said, but offers an option to sustain her career without interruption due to any special circumstances she may face, such as pregnancy or childcare.
Experts in designing applications and programs that facilitate remote work, as well as some workers and business owners who use these applications have joined the initiative, she added.
"Egyptian women suffer due to inequality in the labor market. They are exposed to many negative attitudes in the workplace, in addition to being more challenged to achieve a balance between work and family, and other factors that cause many competent women to be wasted, have a delay in their career or be prevented from assuming leading positions," Hosny said.
Hosny added that because of the coronavirus, tens of thousands of women in Egypt lost their jobs, while thousands took unpaid leave or sick leaves to care for their children after the closure of schools – even though many would have been able to maintain their careers without interruption if they were allowed to work remotely.

Photo credit: shutterstock website.