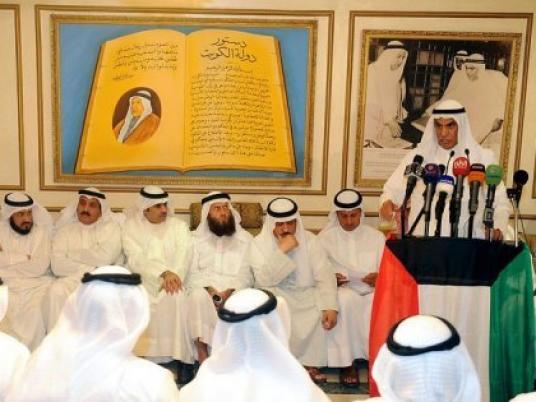 The Kuwaiti opposition pressed for a multi-party system as part of a host of political and constitutional reforms to achieve a full parliamentary system and an elected government.
In a joint statement issued Monday night and titled a "declaration to the nation," the Islamist and nationalist opposition also called for legalizing political parties, reforming the judiciary and fighting corruption.
"The proposed constitutional and political reforms aim at strengthening the principles of rationale governance and to limit the dominance of the executive authority on the political decision-making," process, said the statement.
The opposition said that the oil-rich Gulf state is passing through "the worst political phase of its modern history" citing stalled development, rife corruption, political instability and non-stop crises.
The statement was approved by 35 of the 50 members of the parliament that was scrapped last month by a court ruling and strongly supported by youth activist groups and a number of civil society organizations.
The latest political crisis in Kuwait unfolded after the constitutional court last month declared February's legislative election, won by the opposition, illegal and reinstated the previous pro-government parliament.
It based its decision on the grounds that two decrees dissolving the previous parliament and calling for a fresh election, both issued in December, were found to be flawed.
The ruling also forced the government to resign on June 25 after just over four months in office. It said the move was designed to pave the way to take the necessary legal action to implement the verdict.
The opposition called for forming the new cabinet soon, dissolving the reinstated parliament and calling for fresh polls and threatened to boycott the election if the government changed the electoral law or voting system.
Kuwait was the first Arab state in the Gulf to introduce democracy 50 years ago but the constitution entrusts massive powers in the hands of the ruler and the government remained dominated by the Al-Sabah ruling family.
The opposition is demanding the legalization of political parties, which are currently banned in Kuwaiti though several groups act as de facto parties, and the winning party should form the government.
Since 1962, the government has been headed by a senior member of the Al-Sabah family, in power for the past 250 years, and whose members also normally hold the key posts of defense, interior and foreign affairs.
The OPEC member has been rocked by a series of political crises since 2006 during which the government resigned nine times and parliament was dissolved on five occasions.