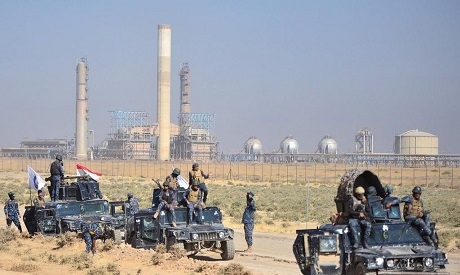 Kurdistan regional authorities accused Iraqi forces of launching an attack on Tuesday towards the Turkish border, where a section of the Kurdish oil export pipeline is located.
An Iraqi military spokesman denied clashes happened in the region of Rabi'a, 40 kilometers (25 miles) south of the Fish-Khabur border area held by Kurdish Peshmerga forces.
"Peshmerga repelled the attack and pushed Popular Mobilisation back in to Rabia'a," tweeted KRG President Masoud Barzani's media advisor, Hemin Hawrami.
A military spokesman in Baghdad said in response: "There are no clashes."
On Monday an official of the Kurdistan Regional Government's (KRG) security council said Iraqi government forces and Iranian-backed Popular Mobilisation paramilitaries were deploying tanks and artillery in Rabi'a, north west of Mosul.
An Iraqi government security advisor said on Monday the Fish-Khabur area was the location of crossings into Turkey and Syria that Baghdad wanted to bring under its control.
He declined to say if a military move was being prepared.
The pipeline that carries crude oil across Iraqi Kurdistan connects to a metering station in Fish-Khabur before feeding another pipeline that takes it to the Turkish Mediterranean coast for exports.
Turkey and Iran both support measures taken by the Iraqi government to isolate the KRG after it held a referendum on Kurdish independence on Sept. 25, and to bring the Kurdistan region's oil exports and land crossings under Baghdad's authority.
The Fish-Khabur crossing has been under Kurdish control since 1991, when the United States and western powers imposed a no-fly zone over northern Iraq to protect the Kurds from Saddam Hussein's army.
The Syrian side of the border in the region is now under the control of U.S.-backed Syrian Kurdish forces.