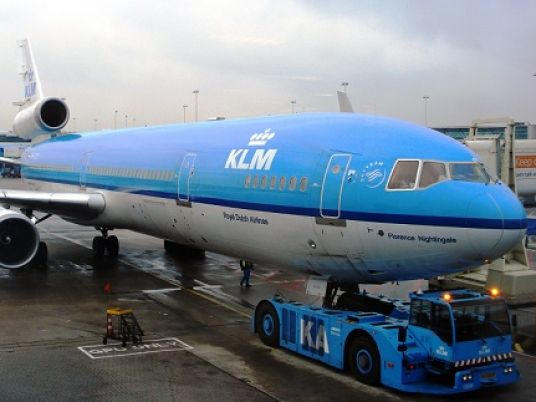 KLM Royal Dutch Airlines has not yet officially communicated its decision to temporarily suspend flights to Cairo starting next January, a Civil Aviation Ministry official said on Wednesday.
KLM announced its decision to suspend flights in a statement earlier on Wednesday, but Egyptian ministry officials have not yet been officially notified, said the source.
The final flight to Cairo will depart from Amsterdam on January 6, 2017, and the final flight returning to Amsterdam will be on January 7, 2017, according to the statement.
The airline attributed its decision to current economic conditions in Egypt; mainly the devaluation of the Egyptian pound and the Central Bank of Egypt's decision to impose restrictions on the transfer of foreign currency out of Egypt.
In statements to the press, the ministry official said that the central bank has put in place a mechanism by which the concerns of the airlines could be addressed and their earnings repatriated.
Egypt's civil aviation ministry had reached an agreement with the central bank in March over paying foreign airlines who have complained of being unable to repatriate earnings.
In February, Air France-KLM told Reuters it had been unable to repatriate any earnings since October and was owed more than LE100 million
British Airways had faced similar problems.
The ministry official held the view that these concerns are not unique to Egypt, and added that EgyptAir sometimes faces similar difficulties in other countries like Sudan and Eritrea.
The Egyptian pound has come under increased pressure in recent months, prompting talk about further devaluation.
The central bank devalued the pound by about 14 per cent in March.
Import-dependent Egypt has faced a worsening dollar shortage since the 2011 uprising and subsequent turmoil which drove away foreign investors and tourists, key sources of foreign currency.