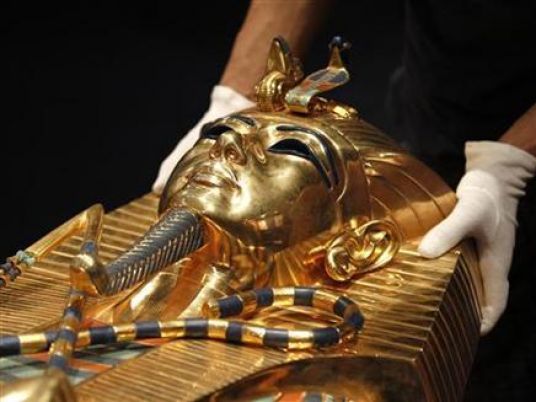 London's Saatchi Gallery is preparing to host an exquisite collection of the ancient Egyptian King Tutankhamun's belongings, set to be exhibited starting November 2 under the title "Treasures of The Golden Pharaoh" presented by Viking Cruises, the UK's Daily Mail reported.
This temporary exhibition is part of the artifacts' worldwide tour across 10 countries, which will end in 2022, after which the pieces will be permanently displayed in the Grand Egyptian Museum. The global tour marks the 100th anniversary of the discovery of King Tut's tomb.
The English newspaper noted that hundreds of thousands are excited to visit the boy king's treasures in London following their temporary exhibition in Paris's Grande Halle La Villette, which broke records by attracting 1.5 million visitors, according to an announcement made last month. Egypt's celebrated Egyptologist Zahi Hawass called this huge turnout "remarkable" within the history of French cultural exhibitions.
The awaited exhibition will house nearly 5,000 items from among the findings excavated by Howard Carter in 1922, according to the Egyptian authorities. The world's 60 oldest silver musical instruments are believed to be among King Tut's belongings. British archaeologist Carter successfully discovered Tut's 18th dynasty tomb following intense excavation work alongside his team.
According to the official Paris website of the convention and visitors bureau, the exhibition features "150 fascinating original objects found in 1922 in the tomb of the most famous pharaohs, the majority of which have never left Egypt before." Among those objects are Tutankhamun's illustrious golden mask as well as his gold plated wooden bed.
Daily Mail's Jan Mori provided a sneak peek write-up to potential visitors after a trip to Paris's Grande Halle La Villette. She referred to a gold statue of the young king hunting a fish as well as to his funeral bed, which stands on lion's feet.
Jars storing some of his mummifies organs were also placed among the displayed collection, according to Moir. She further described a phenomenal-looked fan shielded with gold and feather located in the tomb, in addition to Tut's fanciful gloves and sandals.