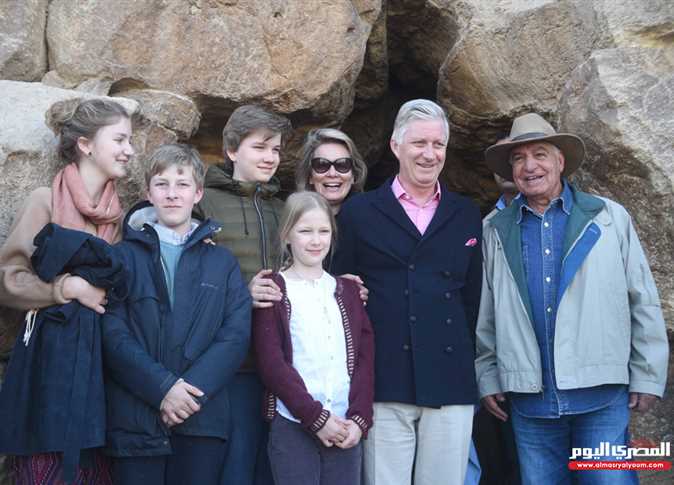 King Philippe of Belgium and his wife Queen Mathilde left Cairo on Saturday, concluding a 10-day visit to Egypt during which they spent the Christmas vacation.
Accompanied with their four children, the monarchs visited the Upper Egyptian governorate of Aswan and its tourist landmarks including the High Dam, Philae Temple, the unfinished obelisk in addition to Luxor governorate and its archaeological sites.
Egyptologist and former Minister of Antiquities Zahi Hawass accompanied the royal family during the vacation, which included visiting Aswan, Luxor and Cairo.
The king stressed his astonishment with Egypt, which he called "charming."
"It was my pleasure to accompany King Philippe and his family since Wednesday," Hawass told Al-Masry Al-Youm. "I gave him my hat, while I gave the rest of the family my books."
Hawass noted that during his trip, King Philippe was keen to wear his hat, and expressed great happiness with it. Hawass said they visited many archaeological sites in Luxor, while the king brought his own camera to document his visit.
Hawass added that he then managed to convince them to visit the pyramids, since this visit is the first of King Philippe and his family, and the proposal was welcomed by everyone. The visit was at seven o'clock in Saturday morning, and lasted for about an hour. The King and his family expressed their admiration with the Egyptian civilization and its monuments.
Hawass stressed the passion for Egyptian civilization that he had seen from King Philippe and his wife. He said that King Philippe had asked him more than 100 questions about the Egyptian civilization, and that the Queen herself had confirmed her reading of many books about Egypt.
Hawass said that King Philippe's visit to Egypt was "the best publicity for the country."
According to Hawass,  King Philippe walked through the streets and entered shops, stating that he found Egypt's streets secure and safe.
Edited translation from Al-Masry Al-Youm