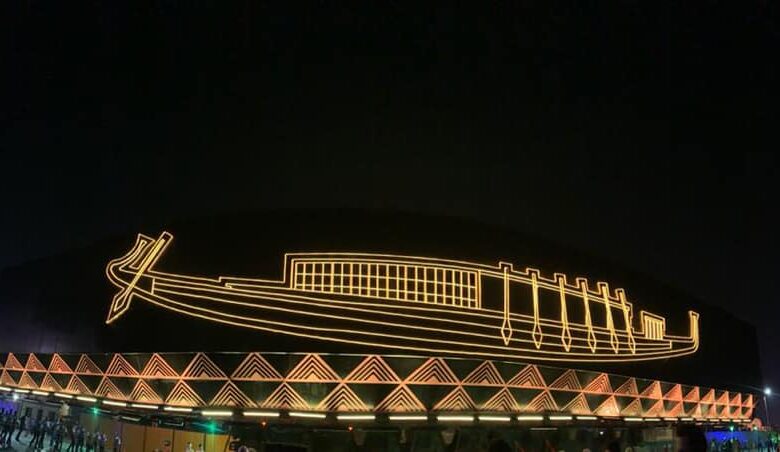 The Grand Egyptian Museum (GEM) during the early hours of Saturday received the first boat belonging to King Khufu 48 hours after transferring it from its place of display in the pyramids archeological area to the GEM.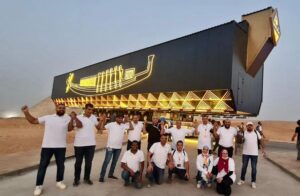 The project aims to preserve one of the largest wooden relics in human history, over 4600 years old, and display it in a fitting manner within the GEM.
The General Supervisor of the GEM project and the surrounding area, Atef Moftah, explained that the transfer of the boat is one of the state's most important archaeological engineering projects.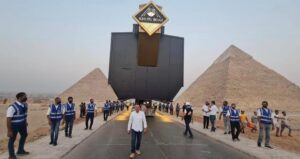 The project left nothing to chance, he stressed. It was the result of careful effort, study and preparation over nearly a year to ensure that the boat's transfer would be carried out carefully all while ensuring the relic's safety.
Moftah stated that the boat was transported as one piece inside a metal structure lifted on a smart remote-controlled vehicle, which was brought in specifically for this purpose from abroad to safely settle the boat in its new location at the GEM's Khufu Boat Museum.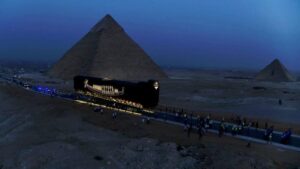 The Secretary-General of the Supreme Council of Antiquities, Mostafa Waziri, said that the process of transferring the Khufu boat comes to display the boat in a museum named after it, built on the site where it was discovered in 1954 on the southern side of the Great Pyramid in the pyramids area.
Back in August 2020, the Khufu Boat Museum was closed in the pyramids archeological area, and rehabilitation work began to transfer it to the Khufu Boat Building in GEM, currently being equipped with the latest scientific methods for museum display.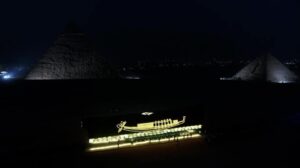 The Assistant Minister of Tourism and Antiquities for Archaeological Affairs at GEM al-Tayyeb Abbas said that the process of removing the boat from its old headquarters faced great challenges, which were overcome by the committee formed by the museum's management and archaeologists and their colleagues from the Supreme Council of Antiquities, alongside consultants, engineers and professors of the Faculty of Engineering at the Cairo University.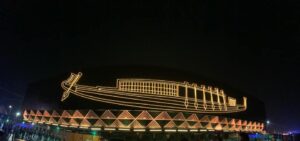 In the next few days, the GEM is scheduled to organize a news conference on the details of transferring the first Khufu boat from its place of display in the pyramids area to GEM.