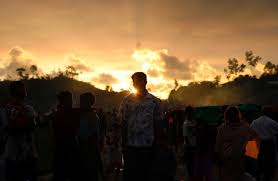 Islamist insurgents arrived in the northeastern Nigerian town of Rann on March 1. Ignoring the camp for 55,000 people displaced by the region's conflict, they stormed the nearby military base.
Inside, the gunmen executed eight security personnel and three aid staff working for the United Nations, according to security sources and photos seen by Reuters.
It was the first publicly-acknowledged killing of aid staff by Boko Haram insurgents, but for humanitarians struggling to reach millions of people in need of aid it was a realization of a long-held fear and another setback for a crisis response that has been criticized for being too slow.
Given the precarious situation in the region bordering Cameroon, Chad and Niger, the aid workers in many areas use military escorts and stay on or by bases.
For years, some aid workers had objected to such practices, saying they undermined humanitarian principles of neutrality and impartiality and put staff at risk.
"We are caught in a situation where humanitarian aid is part of a larger security and political agenda and that challenges the delivery of aid according to humanitarian principles," said Hugues Robert, program manager for Medecins Sans Frontieres (MSF) in Nigeria.
Zainab Ahmed, the Nigerian minister of state for budget and national planning who is responsible for coordinating the government relief efforts, did not respond to a request for comment about the attack on Rann.
The United Nations, which describes the situation as one of the world's worst humanitarian crises, said in February that 7.7 million people in the three most affected states depended on aid for survival.
Since Boko Haram first launched attacks in 2009, more than 20,000 people have been killed, over 4,000 abducted and 1.6 million were still displaced in Nigeria at the end of 2017, according to the United Nations. (tmsnrt.rs/2CsEQGH)
WAR CRIME
While attacks on aid workers constitute a war crime, the perceived politicization and militarization of aid in countries such as Afghanistan, Iraq, Somalia and Syria has led to a growing number of attacks on humanitarian staff in war zones.
In Nigeria, even though the army launched an offensive against Boko Haram in 2015 with the help of forces from Cameroon, Chad and Niger, much of the northeast outside cities such as Borno state capital Maiduguri remains a no-go zone.
"International humanitarian law is designed to prevent incidents like the Rann attack. By militarizing humanitarian sites – yet failing to protect them – the Nigerian military is putting vulnerable civilians in harm's way," said Matthew Page, an associate fellow with Chatham House's Africa Programme.
"Worried that the Nigerian government could obstruct their work, international entities have turned a blind eye to the militarization of internally displaced persons' camps and official corruption in the humanitarian space that puts civilians at even greater risk," he said.
The Nigerian military did not respond to request for comment.
In the wake of the Rann attack, some humanitarian groups are pushing for a reassessment of relations with the military, particularly the UN's, according to people familiar with the discussions this month.
"There were definitely questions being asked," said Patricia McIlreavy, vice president at InterAction, an alliance of non-governmental organizations (NGOs) around the world.
"There was a feeling, from some NGOs that I spoke with but also some UN actors, that we kind of just went along with what the government was proposing," said McIlreavy, one of the authors of a UN report about the crisis response.
Asked whether working in close proximity with the military put aid staff at risk, a UN spokeswoman said the international community in Nigeria upheld the humanitarian principles of neutrality, impartiality, independence and humanity.
"In the context of northeast Nigeria, military escorts are used as a last resort, in areas where security risks are very high," she said.
SLOW RESPONSE
Aid agencies have now pulled out of Rann, leaving tens of thousands uprooted by the fighting living again in parlous conditions with little or no international humanitarian support.
Problems with the response to the crisis, including how closely humanitarians were working with the military, had been identified long before the attack.
As early as 2013, there were warnings of a food crisis in the region, from the US-funded Famine Early Warning Systems Network (FEWS NET) and others. In 2015, the United Nations and other NGOs said more than 50,000 people faced famine.
Yet, for many, the crisis response only really began in June 2016 after MSF visited Bama town and discovered 24,000 people, including 4,500 children under five, living in catastrophic conditions which the agency said were "beyond critical".
Near the camp MSF found a field of evenly-spaced indentations in the earth, marked only by the occasional scrap of metal: 1,233 graves, 480 for children.
When MSF's news of Bama spread, Nigeria declared a "nutrition emergency" in Borno state and UN agencies started to ramp up the humanitarian response.
Disputes within the United Nations and aid groups, tense relations with the government and a slow response both internationally and by Nigerian politicians over the preceding years had all helped make a desperate situation catastrophic, said aid workers, diplomats, politicians and security personnel.
"We all recognize that the international response here was in general very slow at the beginning," said Peter Lundberg, who was head of the UN's response in the northeast until December.
Many of the people involved with the crisis response interviewed by Reuters said Nigeria had been reluctant to accept food aid over concern it would harm the image of the country, the biggest economy in Africa. They also said some international groups held back from speaking out about the crisis for fear it would damage their relations with Abuja.
"To be fair to the international community, I think that there was also from the government side a reluctance to perhaps fully acknowledge not only that it was a conflict but it was actually turning into a humanitarian crisis. And unfortunately that's not uncommon," Lundberg told Reuters in November.
In 2016, MSF said it had been raising the alarm with UN agencies for two years but they had failed to respond.
A spokesman for WFP said it could only operate in a country at the request of the government and in Nigeria that didn't happen until March 2016.
He said WFP's response was one of its "most significant and swift expansions ever", adding that it planned to deliver aid to 1.5 million people a month by June, from 1 million now.
'TOXIC NARRATIVE'
Despite a massive increase in budgets and humanitarian staff working in the region over the past two years, the response was still wracked with problems holding back aid as recently as June, according to an internal UN report seen by Reuters.
It described a "toxic narrative" between the Nigerian government and the humanitarian community, an "us and them" divide between the United Nations and other NGOs and a relief effort that failed to adhere to international humanitarian law.
The report also warned that the Nigerian government had failed to grasp the reality of the situation on the ground.
"Arguably the most critical factor in scaling up in a manner commensurate to the massive needs, is to orient the attention of the government of Nigeria to commit more of their own resources to humanitarian and recovery efforts in the northeast," it said.
A UN spokeswoman said the assessment was "quite dated" and a task force including representatives from the United Nations, international NGOs and donor countries was expected to issue an internal report on progress this month.
Even at the start of 2018, issues described in the report still threatened to undermine the response.
In a Jan. 2 letter to the government seen by Reuters, Edward Kallon, the UN's top humanitarian official in Nigeria, said tensions with the government were delaying a fund-raising appeal.
While the disagreements were resolved in time for the February launch of the 2018 humanitarian response plan, letters sent by both sides highlight a fraught relationship.
"Time is not on our side," Kallon wrote to Ahmed.
In a Jan. 5 reply, also seen by Reuters, Ahmed said Kallon had been "extremely disrespectful … we are concerned that this situation is becoming untenable and therefore unacceptable to us."
The UN and Ahmed did not respond to requests for comment on the letters.