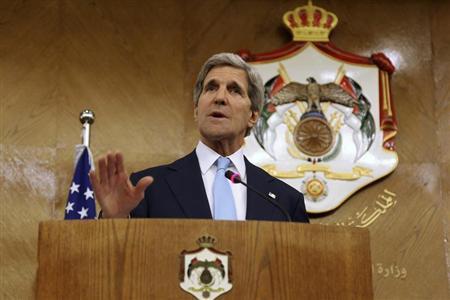 Israeli and Palestinian negotiators have laid the groundwork to resume peace talks frozen for three years and will meet in Washington within "the next week or so," US Secretary of State John Kerry said Friday.
After a day of dramatic diplomacy and a late afternoon helicopter dash to the Palestinian Authority in Ramallah, Kerry announced a hard-won breakthrough to get the two sides back to the negotiating table.
Both Israel and the Palestinian presidency welcomed the development, but the Islamist Hamas movement which runs the Gaza Strip rejected a return to talks.
Kerry's announcement came after he spent four days consulting the Israeli and Palestinian leadership from his base in an Amman hotel.
"I am pleased to announce that we have reached an agreement that establishes a basis for resuming direct final status negotiations between the Palestinians and the Israelis," he told reporters in Amman just minutes before boarding his plane to fly home.
"This is a significant and welcome step forward," he added, having doggedly pushed the two sides to agree to resume talks in six intense trips to the region since becoming the top US diplomat in February.
But after a day in which the deal almost slipped away forcing him to spend hours working the phones, the top US diplomat cautioned he would remain tight-lipped about the details.
"I think all of us know that candid, private conversations are the very best way to preserve the time and the space for progress and understanding when you face difficult, complicated issues such as Middle East peace," he said.
"The agreement is still in the process of being formalized, so we are absolutely not going to talk about any of the elements now."
A US State Department official said: "They have agreed on the core elements that will allow direct talks to begin."
The Israelis and Palestinians remain far apart on final status issues including the borders of a future Palestinian state, the right of return of Palestinian refugees, and the fate of Jerusalem which both want as a capital.
Abbas has also repeatedly called for a freeze to Israeli settlement building and a release of prisoners — demands Israel has rejected.
Kerry said Palestinian negotiator Saeb Erakat and his Israeli counterpart Tzipi Livni would meet him in Washington "to begin initial talks within the next week or so."
The Palestinian presidency hailed Friday's development.
"Abbas's meeting with Kerry in his headquarters in Ramallah on Friday evening achieved progress, and will facilitate an agreement on the basis of a resumption of talks," spokesman Nabil Abu Rudeina said.
But Hamas, which rules the Gaza Strip, told AFP the movement "considers the Palestinian Authority's return to negotiations with the occupation to be at odds with the national consensus."
Its spokesman Sami Abu Zuhri said Abbas had no legitimate right to negotiate on behalf of the Palestinian people.
Livni, who is also Israeli justice minister, was optimistic.
"These were long months of scepticism and cynicism. But now, four years of diplomatic stagnation are about to end," she said.
"Alongside the opportunity, I also know that the moment negotiations start, they will be complex and not easy."
Kerry's last-minute whirlwind diplomacy came after the Palestinian leadership in Ramallah Thursday rejected his proposals for a framework to guide the relaunch of peace talks calling for changes to the US plan.
Talks have stuttered and started for decades in the elusive bid to reach a final peace deal between the Arab world and Israel.
But they collapsed completely in September 2010 when Israel refused to keep up a freeze on settlement building in Palestinian territories.
In his brief comments, Kerry praised the courage of Abbas and Israeli Prime Minister Benjamin Netanyahu, as well as Jordan's King Abdullah II for hosting his push for peace.
"No one believes the long-standing differences between the parties will be resolved overnight or just wiped away. We know that the challenges require some very tough choices in the days ahead," Kerry said.
"The representatives of two proud people today have decided that the difficult road ahead is worth travelling and that the daunting challenges that we face are worth tackling," Kerry said.
"So they have courageously recognised that in order for Israelis and Palestinians to live together side by side in peace and security, they must begin by sitting at the table together in direct talks."
EU foreign affairs chief Catherine Ashton warmly welcomed the agreement, adding her "great hope that we may finally see progress towards the objectives which they share along with their friends and allies around the world."
UN chief Ban Ki-moon called on both side sides to "show courage and responsibility" to ensure that once the talks resume that they can be sustained.