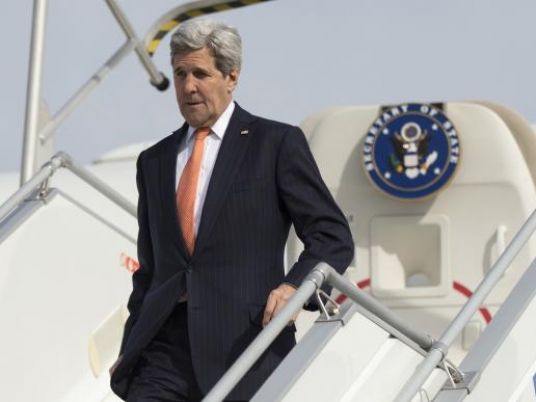 US Secretary of State John Kerry left Thursday for a key economic conference in Egypt, followed by further talks in Switzerland on Iran's suspect nuclear program.
Kerry is due to arrive Friday in the Egyptian Red Sea resort of Sharm al-Sheikh to attend an international economic conference, set to burnish President Abdel Fattah al-Sisi's global credentials.
Egypt hopes the foreign investor conference will jump-start its battered economy while showcasing international support for Sisi as he battles radical Islamist opponents.
Kerry is due to meet with Sisi — a former general who led the army's ouster of elected Islamist president Mohamed Morsi in 2013 and then resigned from the military to stand in the 2014 elections. Kerry could also meet with other Arab and European leaders.
Angered by the stalling of Egypt's hoped-for democratic reforms, Washington has frozen a chunk of its $1.5 billion in mostly military annual aid to Cairo since October 2013, insisting greater progress must be made.
Apache helicopters, however, have been delivered to the Egyptian military — a key ally in the fight against Al-Qaeda and Islamic militants sheltering in the Sinai peninsula.
From the divers' paradise of Sharm al-Sheikh, Kerry will fly to Lausanne in landlocked Switzerland on Sunday for fresh negotiations with his Iranian counterpart Mohammad Javad Zarif.
Talks with global powers for a deal reining in Iran's suspect uranium enrichment program in return for sanctions relief are reaching a critical stage as a March 31 deadline for an political framework accord looms.
With uncertainty still surrounding the deal, the State Department has not said how long Kerry will stay in Lausanne, nor when he is expected to return to Washington.
Zarif is also due to meet with EU partners, Britain, France and Germany in Brussels on Monday.
"There's no deal yet," State Department spokeswoman Jen Psaki insisted on CNN Thursday.
"The primary objective of any deal is to prevent Iran from acquiring a nuclear weapon," she added.