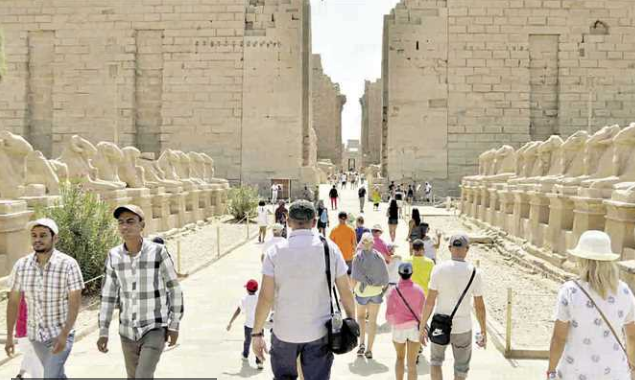 The place: Kebash Road in Luxor, the event: a grand inauguration ceremony, the timing: the beginning of next year, attendees: world's leading archaeologists, intellectuals, local and international media, and Pharaonic civilization fans.
The Minister of Antiquities Khaled al-Anany announced the inauguration of the Kebash Road which links the Karnak and Luxor temple complexes on Friday September 8 while inspecting the site of the project. The project is an attempt to return the Kebash Road to its former glory of about 5,000 years ago at a cost of LE240 million.
Karnak Road is the largest archaeological project in the Middle East.
With the inauguration of the Road, Luxor will become the largest open museum in the world.
The project experienced financial and administrative obstacles that caused its suspension for over a year and a half that were solved in coordination between Luxor governor and the ministries of Antiquities and Tourism.
Kebash Road will change the tourism map in Luxor and all of Egypt, Anany said on Friday.
It is the largest walkway for thousands of years of 2,700 meters long, where hundreds of famous archeological statues are lined up on its two sides, he added.
More than 5,000 years ago, Pharaonic King paved this road to walk their holy processions in the celebrations of the Opet festivals every year.
The king would lead the procession followed by senior officials, such as ministers, statesmen, and men of religion.
The procession included holy boats loaded with statues of the symbols of the Pharaonic religious beliefs. The public lined up on both sides of road, cheering and dancing, according to the minister.
Egyptian archeologist Mohamed Yehia Oweida said King Amenhotep the Third initiated the Kebash Road, in conjunction with the start of the construction of the Luxor Temple.
However, the most important contribution to the Road is attributed to King Nakhtenbo I, founder of the 30th Pharaonic Dynasty, the last of all Egypt's Pharaonic dynasties, Oweida added.
Along the way, the passerby can enjoy 1,200 statues of sandstone. The statues are of two shapes: the first is for a lion's body and the head of a human, and the second is for a ram.
The lion symbolized the sun which was greatly worshipped by Pharaohs, while the ram represented Khnum, one of the earliest Pharaonic deities believed to be the source of the Nile River, Oweida added.
The statues were surrounded by flower beds and water reservoirs for irrigation, while between each statue and another was a gap of four meters.
Queen Hatshepsut recorded on the walls of Karnak Temple that she had built seven compartments along this road, according to Oweida.
Edited translation from Al-Masry Al-Youm