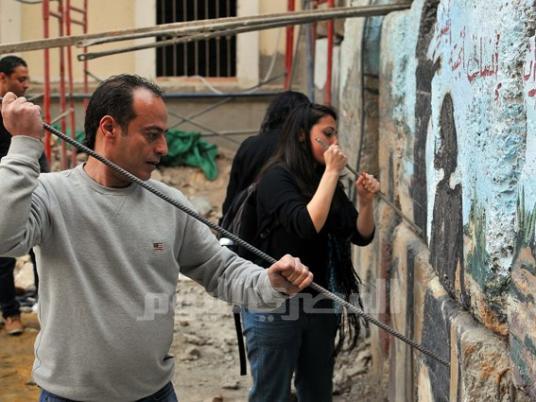 People's Assembly Speaker Saad al-Katatny demanded that the armed forces remove the barbed wire and concrete barriers blocking the streets surrounding the People's Assembly and the Interior Ministry in order to ease the movement of citizens and MPs.
During Monday's parliamentary session, Katatny said that a number of motions have been made to request that the barriers be removed as they obstruct the flow of traffic in Cairo.
He added that MPs suffer daily on while traveling to the People's Assembly because of the roadblocks and expressed his hope that the armed forces will take down the barriers for the good of the people.
State-run daily Al-Ahram said that instructions have been issued to dismantle the concrete wall on Qasr al-Aini street adjacent to the People's Assembly, the Shura Council, and the cabinet building. The wall was erected after clashes broke out on Qasr al-Aini in December following the violent dispersal of a sit-in in front of the cabinet building.
There would be an increase in the number of Central Security Forces deployed in the area to prevent clashes after barriers are removed.
Prime Minister Kamal al-Ganzouri moved government activities to the General Authority for Investment.
Edited translation from Al-Masry Al-Youm