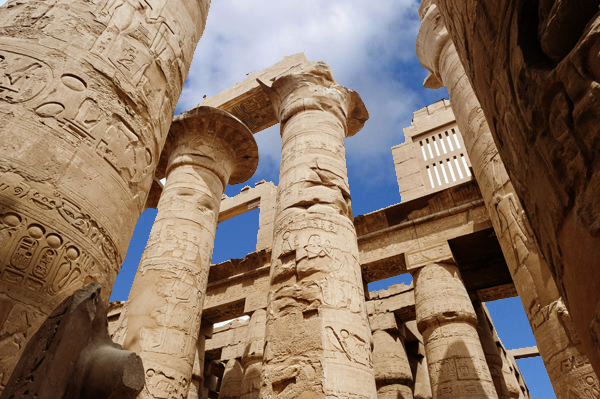 Karnak temple facades in Luxor were lit up in bright colors on Monday evening to celebrate World Tourism Day.
The governor of the tourist city extended an invitation to all tourists from around the world to visit Egypt and Luxor.
The general supervisor of the sound and light shows at the Karnak temples, Hatem al-Saghir, said that World Tourism Day was celebrated at night in Karnak temples by lighting the Karnak facade before the sound and light shows began.
On Monday morning Luxor Governor Mostafa Alham witnessed the launch of the activities of the World Tourism Day in the Karnak temples, in presence of representatives of the ministries of Tourism and Antiquities, Youth and Sports, Education, and Culture, the Tourism Development Authority, members of Parliament, businessmen, representatives of hotels and tourism companies, as well as security and executive leaders in the governorate.
The celebration included artistic performances by the Luxor Folklore Troupe, singing and folk performances from school students garbed in Pharaonic uniforms, and a queue from the media campaign in cooperation between the Directorate of Youth and Sports, school scouts and Luxor Culture Palace.
All floating hotels blew their whistles to welcome tourists present in the Karnak temples.
The Governor of Luxor stressed the importance of Luxor Governorate's participation in the celebration of World Tourism Day, calling on the whole world to visit Luxor and its historical monuments.
The COVID-19 pandemic has had a massive social and economic impact, and both developed and developing economies have been hit, he said, and thus resuming tourism will help kick-start recovery and growth.