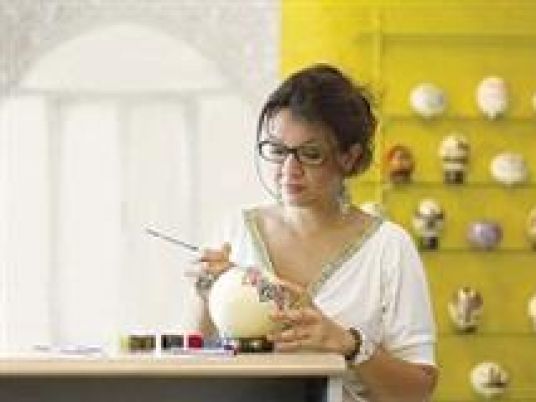 Fine artist Karmen Philip spends long hours with an ostrich egg until nature inspires her with designs. She paints on the eggs and mimics Egypt's civilizations with pharaonic, Coptic and Islamic features.
Philip started drawing and carving on eggs in 2004. She made drawings with Egyptian features that she presented to friends and acquaintances. After everyone welcomed the idea, she was encouraged to expand her art by illuminating the eggs, especially with her Ramadan-inspired works which are made even more famous with lighting and decoration.
The ostrich eggshell is tough and can be up to 2 millimeters in thickness. Philip carefully draws and carves on it to avoid breaking it. She says that this kind of art is hand-made. It could easily be broken. She cannot print on it.
Philip, who graduated from a Fine Arts college in 2002, says that the art of drawing and carving on ostrich eggs is known worldwide, but in Egypt, few artists have the talent to draw on it.
She adds that her first work was admired by many people. The ostrich's egg has had great value throughout the ages, she says. It was used as a royal utensil for drinking during the pharaonic age. During the Coptic age, however, it used to hang in churches. "It is said that the ostrich looks at the egg until it cracks, thus it's a symbol in churches that god is keeping an eye on people," said Philip. In the Islamic age, it was used as a utensil and in Islamic decoration. It was also presented to couples as a symbol for a prosperous life.
On the occasion of Ramadan, Philip was able to turn the egg into a lantern decorated with Islamic drawings.
Edited translation from Al-Masry Al-Youm