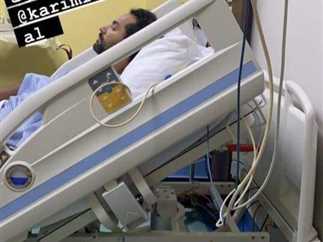 On Friday morning, Egyptian actor Karim Fahmy was taken to a private hospital after suddenly suffering from two pulmonary embolisms (lung clots).
The actor's wife, Dania al-Banawy, posted a photo of her husband in the hospital's intensive care unit on Instagram, asking his fans to pray for him.
She wrote: "God willing, it will pass, and you will be safe."
Recently, Fahmy released the movie "Dido", co-starring Hamdy al-Mirghany, Bayoumy Fouad, Mohamed Tharwat and Hoda al-Mufti. He said recently that he was ready to create part two of the movie.
The script and dialogue were by Fahmy and was directed by Amr Salah.
Fahmy contracted coronavirus in December of 2020, but he announced a full recovery one month later.
Edited translation from Al-Masry Al-Youm