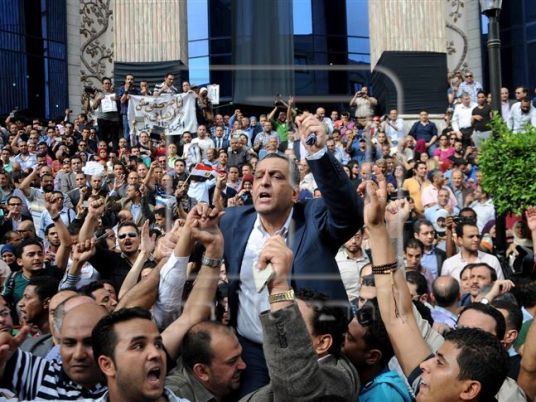 Journalists Syndicate Undersecretary Karem Mahmoud has said that the issue between the syndicate and Interior Ministry requires a political solution, and that the storming of the syndicate premises will never go overlooked.
During an interview with a talk show aired on Al-Ghad news channel on Saturday, Mahmoud described the decision to put the syndicate head and two board members on trial as 'strange and bewildering'. He added that the succession of incidents reveal that the whole thing is a "blunder" on the part of the authorities.
Last week, Syndicate President Yehia Qallash, Secretary General Gamal Abdel Rahim and board member Khaled al-Balshy were released on bail ahead of their trial. However, they refused to post bail of LE10,000 per each and decided to remain in custody. On Saturday, court adjourned their trial to June 18 in response to the defense lawyer's request for more time to study the case.
The defendants face charges of harboring two wanted colleagues, Amr Badr and Mahmoud al-Sakka in the syndicate's headquarters last month, along with charges of circulating false news regarding a police raid of the syndicate headquarters.
The accusations leveled against his colleagues, according to Mahmoud, were unfounded, and the three should never have been arrested. He also indicated that the prosecution acted above its station in releasing Qallash, Rahim and Balshy on bail, and handed the three over to court on realizing its mistake.
The affair has caused some strange reactions, he said, indicating attempts to depict the syndicate as evil. He added that the syndicate has been through many crises before, and has always been and always will be a platform for defending freedoms and steadfastness.
He raised the question of who will benefit from casting the syndicate in a negative light before the public.
The affair began when police entered the syndicate on May 1 to seize the two fugitives at the height of anti-government protests over the transfer of Tiran and Sanafir islands to Saudi control.
Badr, the editor-in-chief of yanair.net, and his colleague Sakka were wanted on warrant for spreading false news and seeking to incite illegal protests, scheduled for April 25, against the maritime border agreement between Egypt and Saudi Arabia earlier that month.
They took shelter in the syndicate's headquarters in downtown Cairo as police searched for them at their homes.
Police eventually arrested the two men at the syndicate building in a controversial incident that the syndicate described as a violent and "unprecedented" raid.
According to some reports, around 40 police personnel were involved in the operation.
However, the Interior Ministry claims that only a handful of policemen were involved in making the arrests and that the scale and seriousness of the incident had been exaggerated for political purposes.
Following the arrests, Qalash called for the resignation of Interior Minister Magdy Abdel Ghaffar.
Edited translation from Al-Masry Al-Youm