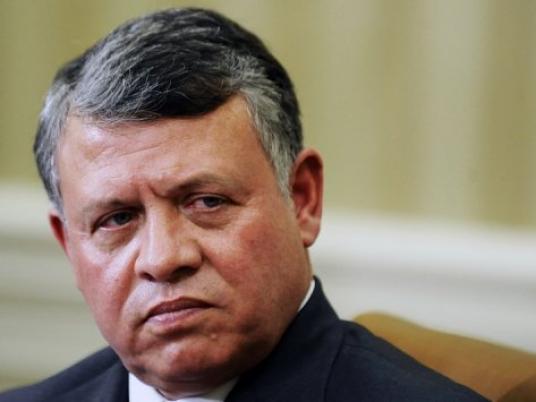 Jordanian military prosecutors on Sunday charged 13 political activists with incitement against the regime, rioting and insulting King Abdullah II, a day after police broke up their demonstration.
"State Security Court prosecutors accused the 13 of inciting the public against the country's political regime, rioting and insulting the king," a court official told AFP.
They face up to 15 years in prison if convicted.
On Saturday, around 200 members of various youth movements demonstrated near the prime minister's office in Amman to demand the release of six activists who were jailed last month for insulting the king.
Anti-riot police dispersed the protest after the demonstrators refused to stop chanting against the regime.
Public Security Department spokesman Mohammad Khatib told AFP that police had arrested 28 of those who took part in the protest, 15 of whom have subsequently been released.
The suspects are being tried before a military tribunal because of the nature of their alleged crimes.
The State Security Court tries both military personnel and civilians and its jurisdiction includes trying offences against Jordan's security.
The Public Security Department said in a statement Saturday that police made the arrests after "some protesters broke the law, disturbed public order, blocked traffic and insulted security officials," adding that the demonstration "was not peaceful."
Jordan's powerful Muslim Brotherhood condemned police action against the protesters.
"Dispersing the protest and arresting the activists escalate tension in the country," said spokesman Jamil Abu Baker.
"Their chants came as a result of frustration that no real reforms have been introduced and no genuine anti-corruption steps have been taken."
Abu Baker added that "the regime still has time to prove its good intention. Reform is the only solution to the current tension and escalation in Jordan."
The human rights watchdog Amnesty International on Saturday called for the release of activists jailed in March.
"Restrictions on the right to criticise the authorities or state institutions persist in Jordan and journalists, activists and others continue to face arrest and prosecution," it said.
Jordanians have been protesting since January last year demanding sweeping political and economic reforms and an end to corruption.