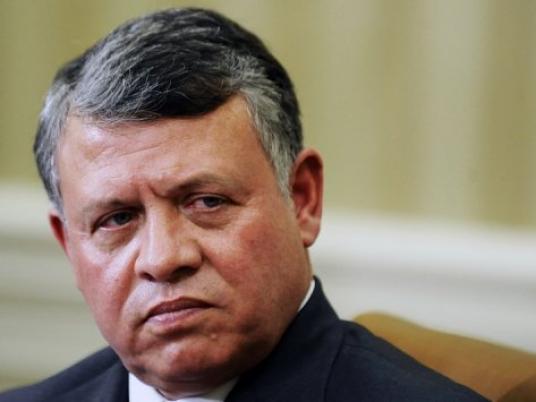 Jordan's King Abdullah II, facing popular demands for political changes, seeks to pave the way for crucial general polls before the end of 2012, a move seen by experts as "the last test" for reform.
A week after appointing a new government after accusing the earlier one of being too slow to act on reforms, the king approved an Independent Elections Commission to oversee the polls — considered by some as key to electoral process.
"Jordan has a historic opportunity to determine its future this year," the king told the lower house deputies at a meeting late Monday, urging them to work with the government on laws governing political parties, elections and a constitutional court.
"All these efforts will be meaningless if they do not result in holding fair and transparent parliamentary elections before the end of this year," a palace statement quoted him as saying.
Jordanian officials insist the king is "determined and very serious" about reforms, but others, including the influential opposition Islamists, charge that steps taken to introduce political changes are still "marginal."
"The king … is the guarantor of reforms and will not tolerate any delays in the process," a senior royal court official told AFP, speaking on condition of anonymity.
"The country is now facing exceptional circumstance and Jordan is trying to take advantage of the Arab Spring to speed up comprehensive reforms. No one should rest until popular demands for reforms are met."
He said one of these demands was for creating the electoral panel, headed by former UN special envoy to Libya and career diplomat, AbduIlah al-Khatib.
"Jordan will exert tremendous efforts to hold the elections before the end of 2012. There is no time to waste," said the palace official.
Laws on political parties and elections should be approved by parliament during its ordinary session, which the king has extended to 25 June to pass key legislations.
"The electoral law is now in the hands of parliament. Political powers and MPs should start a dialogue in order to choose the agreement on the law," said Information Minister and government spokesman, Samih Maaytah.
"Of course this does not mean that all the demands of political powers must be met. The two sides should find a middle ground solution, and the government will support all reform efforts."
The proposed law scraps a contested one-person-one-vote system and increases the quota for women MPs.
But each of the country's 23 political parties can only field five candidates to compete for a total of 15 seats allocated for them nationwide, a move that has triggered harsh criticism from the opposition.
"We do not seek elections for the sake of elections. The previous polls produced MPs that do not represent the people. Now the political atmosphere is worse, and we do not want a reproduction of the current lower house," Zaki Bani Rsheid, deputy leader of the Muslim Brotherhood, told AFP.
"What is the point of holding elections under a law that seeks to exclude national powers? All these so called reform measures are marginal. They are not even close to the essence of the democratisation process."
MP and columnist Jamil Nemri, said the electoral committee was a "good step," but complained of "elusiveness" in implementing reforms.
"We say we want to reform but we are not doing anything about it. There is elusiveness in introducing real reforms. I think the electoral law and the elections represent the last test," he told AFP.
Analysts and Islamist also say that the new government under the leadership of newly sworn in premier, Fayez Tarawneh, who replaced Awn Khasawneh, is too "conservative" in delivering reforms despite being pushed by the king.
"Jordan is facing a dilemma, and the majority of people are not optimistic about reforms. Ordinary Jordanians have been waiting for more than a year to see change," political analyst Hassan Abu Hanieh told AFP.
Jordan has seen relatively small but persistent Arab Spring-inspired demonstrations almost every week since January 2011 to demand sweeping reforms.
"To start a process of genuine reforms, you need an electoral law that represent all Jordanians, and then take it from there to address other issues," he said.