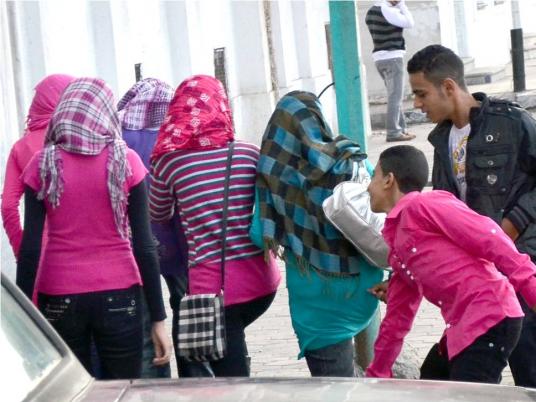 A Jordanian woman sharing her experience of sexual harassment and assault in a televised debate, only to be insulted by a former lawmaker, has sparked a sharp debate in the Arab world.
The incident happened on this week's episode of DW's Arabic program "Shabab Talk," during which host Jaafar Abdul Karim defended a 21-year-old woman against a prominent Jordanian former legislator and former domestic intelligence officer, Mahmoud al-Kharabshe.
The episode filmed in Jordan was focused on women's rights in Jordan and comes in the wake of multiple sexual harassment claims against prominent figures in the West.
The young woman shared her experience of sexual harassment with the audience, questioning Jordan's laws and the response of authorities to the issue.
The 21-year-old described a time when she reported an incident of sexual assault to the police, only to in turn be harassed and flirted with.
"My family supports me, but I say this for other Jordanian girls, not all of them…" she said.
At that moment al-Kharabshe loudly interjected, doubting her claims and suggesting that such a young woman must be promiscuous and couldn't possibly be Jordanian.
"Jordanian girls are not like this … they do not go around speaking on networks (media outlets)," he said. "Are you Jordanian? Show me your ID!"
"You're 21 years old and you've managed to gather all of this experience already?" he asked.
The DW host defended the young woman and asked repeatedly for al-Kharabshe to behave appropriately and show respect.
"I have a request, any woman on my program needs to be respected. Whoever doesn't follow this request is simply not suitable for the program," Jaafar told al-Kharabshe.
The former lawmaker then told the DW host that if he did not show respect he would "bring the world upside down (on Karim's head)." He then stormed off the stage. "We have honor, and our country is respectable!" he shouted.
Incident causes debate 
The television episode has since gone viral and sparked a debate on social media and in the Jordanian press.
Maha Aranki wrote on Twitter that the Arab world needs to address uncomfortable topics.
Another Twitter user, Nora A., wrote that it was important that Shabab Talk took a stand against al-Kharabshe.
But not everyone on social media was supportive.
Evamaaitah wrote:
"How dare she speak in the name of Jordanian women, no one should dare to speak in the name of any Jordanian woman, the Jordanian woman is protected among her family, and her people."
Another person, Hamzeh Shurman, claimed sexual harassment is not an issue in Jordan.
"Jordanian women are not subjected to sexual harassment, less than 1 percent face it."
In addition to bringing the issue of sexual harassment into the public spotlight, the incident has also raised larger questions about women's rights and inequality.
Jordan is ranked 135 out of 144 countries on the World Economic Forum's 2017 Global Gender Gap Index.
A recent poll by the Sisterhood is Global Institute-Jordan showed that 57 percent of Jordanian women hesitate to report an incident of harassment or sexual violence, with 73 percent fearing "dishonor and disgrace."