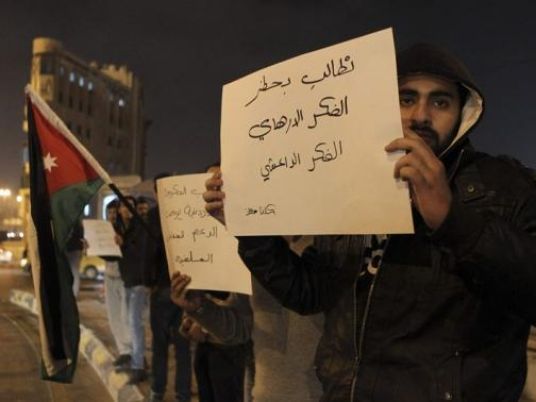 Jordan hanged two Iraqis on Wednesday, including a female militant, hours after Islamic State released a video appearing to show a captured Jordanian pilot being burnt alive, a security source and state television said.
Islamic State militants had demanded the release of the woman, Sajida al-Rishawi, in exchange for a Japanese hostage who was later killed.
Jordan has promised an "earth-shaking response" to the killing of its pilot, Muath al-Kasaesbeh.
Authorities also executed a senior al Qaeda prisoner, an Iraqi man who was sentenced to death in 2008 for militancy.
The fate of Kasaesbeh, a member of a large tribe that forms the backbone of support for the country's Hashemite monarchy, has gripped Jordan for weeks and some Jordanians have criticised King Abdullah for embroiling them in the U.S.-led war that they say will provoke a militant backlash.
The prisoners were executed in Swaqa prison, a large facility 70 km (45 miles) south of the capital, Amman, just before dawn, a security source who was familiar with the case said.
"They were both calm and showed no emotions and just prayed," the source added without elaborating.
Rishawi, in her mid-forties, was sentenced to death for her role in a 2005 suicide bomb attack that killed 60 people. It was the worst Islamist suicide attack in Jordan's history.
Scores of Jordanians, infuriated by Kasaesbeh's killing, gathered at midnight in a main square in the capital calling for revenge and her quick execution.
Holding placards showing images of the pilot, several youths chanted "Death, Death to Daesh," using a pejorative Arabic acronym for Islamic State.
Jordan said on Tuesday the pilot had been killed a month ago. Disclosing that information appeared to be an attempt to counter domestic criticism that the government could have done more to strike a deal with Islamic State to save him.
In Karak, Kasaesbeh's hometown in southern Jordan, dozens of protesters had attacked a government building late on Tuesday, blaming the authorities for failing to do enough to save him.
Tribal elders calmed the crowd down.
The second executed militant was Ziyad Karboli, an Iraqi al Qaeda operative, convicted for killing a Jordanian, said the security source, who declined to be identified.
U.S. ALLY
Jordan is a major U.S. ally in the fight against hardline Islamist groups and hosted U.S. troops during operations that led to the invasion of Iraq in 2003. It is home to hundreds of U.S. military trainers who arrived in the last few years to bolster border defences with Syriaand Iraq.
King Abdullah cut short a visit to the United States to return home following word of Kasaesbeh's death. In a televised statement, he said the pilot's killing was an act of "cowardly terror" by a deviant group that had no relation to Islam.
He urged Jordanians to unite and said the militants were "criminals" who had distorted the Islamic faith.
The executed woman came from Iraq's Anbar province bordering Jordan. Her tribal Iraqi relatives were close aides of the slain Jordanian leader of al-Qaeda in Iraq, Abu Musab al-Zarqawi, from whose group Islamic State emerged.
Islamic State had demanded her release in exchange for the life of Japanese hostage Kenji Goto. However, Goto, a veteran war reporter, was later beheaded by the group, with images of his death released in a video last Saturday.
Jordan had insisted that they would only release the woman as part of a deal to release the pilot.
Several politicians and lawmakers have called on the government to pull out of the coalition. The authorities said his death would not weaken resolve to fight militant Islamist groups.
The Jordanian pilot is the first from the coalition known to have been captured and killed by Islamic State.