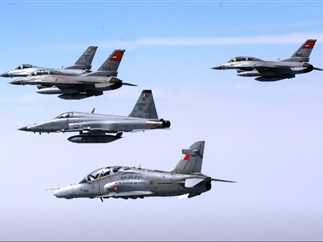 The joint maritime training Hamad-3 between Egyptian and Bahraini naval and air forces, which lasted for several days in the Kingdom of Bahrain, concluded on Monday.
The joint training included naval personnel conducting maritime surveys of enemy targets and making several maritime formations that showed the ability of the naval units of both countries to take their positions accurately and quickly, showing their readiness in dealing with hostile maritime targets with high efficiency. 
They implemented training sessions on mines and responding to rapid-attack and boat attacks during port departure.
The participating naval units also carried out live ammunition training to repel and destroy surface targets, and they showed accuracy in hitting targets.
The units trained on the exchange and reception of aircraft on the roofs of the naval units and carried out different missions to detect enemy submarines.
They trained on storming and inspecting suspicious vessels and controlling them by helicopters and rapid boats.
The air forces of the two countries trained on how to carry out joint air defense and attack operations.
They also exchanged experiences between technical and engineering crews in the field of maintenance and equipping fighters before and after takeoff.
Major General Khalid bin Ali Al Khalifa, Assistant Chief of Staff of the Bahrain Defense Force, expressed his hope of increasing the volume of military expertise exchanged between the two countries.
Khalifa added that he wishes to see more joint Egyptian-Bahraini military trainings in the coming years. He also praised the combat skills of the participating forces.
The Hamad-3 military training is a continuation of a series of joint training exercises carried out by the Egyptian Armed Forces out of Egypt's keenness to exchange experiences with various countries to develop the skills of commanders and officers and maintain their combat efficiency.
Edited translation from Al-Masry Al-Youm