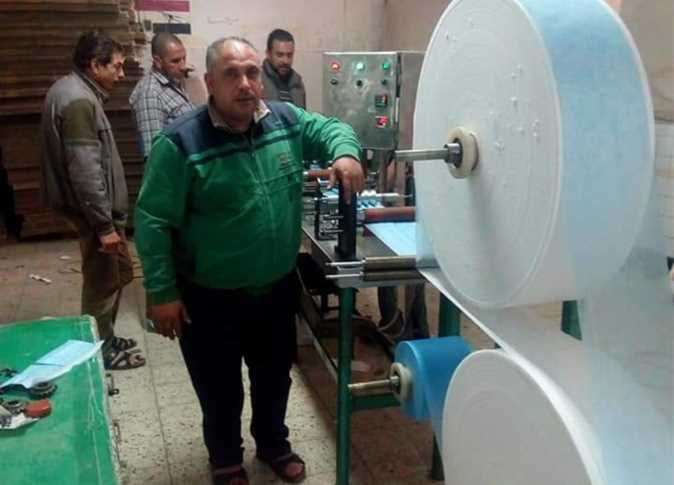 The state-owned Misr Spinning and Weaving Company in al-Mahalla al-Kubra, Gharbiya governorate, on Monday began test runs of a new production line for sterilized medical face masks to help combat coronavirus in Egypt, capable of producing 2,400 masks per hour.
The masks are being produced with machines manufactured by a team of engineers and workers in the company's maintenance department.
The company witnessed intensive work on Monday by engineers and employees of the Mechanical Workshops Department, in conjunction with the company's medical cotton division, to finish producing machines to manufacture and produce the masks.
The company's chairman Ashraf Ezzat supervised the test operation of the first round of production. The machines succeeded in manufacturing 40 sterilized face masks per minute, reaching a rate of 2,400 masks per hour.
The engineers and technicians of the Workshops Department designed the machines, other employees executed their designs, and engineers and employees worked hard to finish installing the machines.
The company said that the face masks meet quality standards, and that the company aims to expand production in order to meet the needs of hospitals and the local market.
Misr Spinning and Weaving Company resumed work on Wednesday after a 15-day long work stoppage caused by two suspected cases of coronavirus among the company's employees. The company resumed work at one third of its labor capacity, with about 4,500 workers in various divisions.
The company formed joint committees with the medical sector, industrial security and company's own security to check the company's workers temperatures on the second working day after the 15-day hiatus.
Teams wore face masks and gloves and went about checking all of the company's various factories and divisions, examining workers and checking their temperatures in order to maintain their safety.
Other teams also sterilized factories and roads, using bleach and other disinfectants, and instructed supervisors to immediately report if any worker feels symptoms of fever or fatigue and to take them at once to the hospital.
Edited translation from Al-Masry Al-Youm