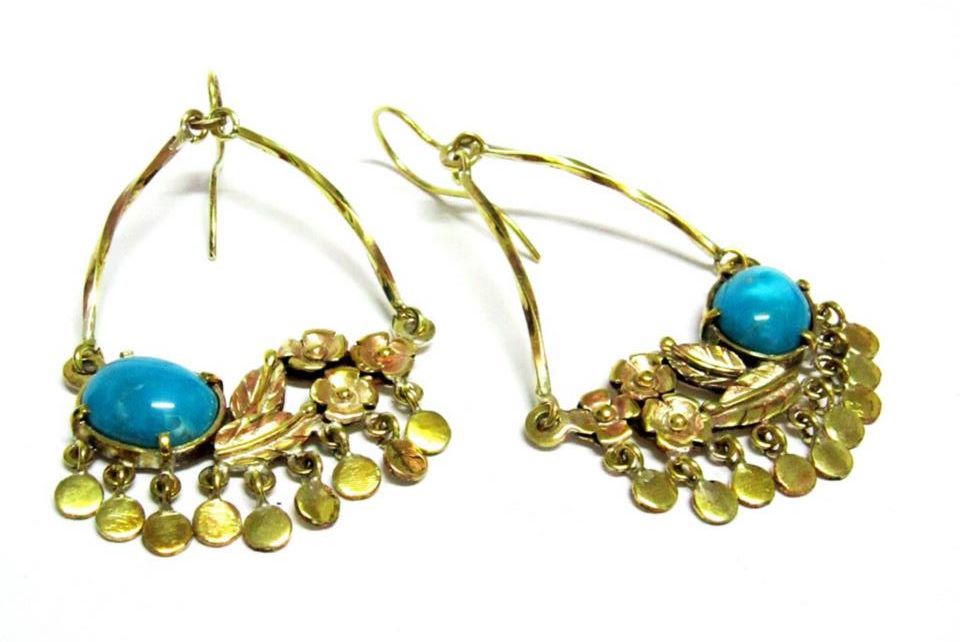 Mixing the classic with the modern created a unique vibe that impressed all those attending the opening night of the Dina Maghawry Design Showroom in Zamalek. A brilliant collaboration between jewelry designer Maghawry and painter Hassan Hassan, the event proved just how beautifully different arts can complement each other.
Although best known for her Western designs, Maghawry decided this time to showcase the classic, traditional spirit of Egypt. "After the revolution, my love and affiliation for the country increased, and I felt it was my duty to start representing our unique culture in my work," she says.
The gallery includes four jewelry collections, each telling a different story about Egyptian heritage. In her Patrie collection, you can find Egyptian symbols, such as coins and old and new flags, while in her Fallaha collection, the long, remarkable earrings that distinguish women in villages will be the first thing to catch your eye.
Also, Bedouin and Nubian styles appear in the necklaces and earrings of the Gamar Buda collection. Oxidized silver and old diamonds are used in the pieces presented in the Patina collection to give the impression of antique textures.
As usual, Maghawry pays special attention to mixing bright colors to add a sense of joy to the pieces. She uses a wide range of gemstones including aquamarine, pearls, garnet, diamonds and quartz, which add charm and beauty to each collection.
Maghawry started making and designing jewelry in 2000. She attended exhibitions and took courses to learn the techniques of creating jewelry and installing gemstones. She says she persisted with her dream until she could finally open her own jewelry workshop.
Because she did it on her own, Maghawry explains, one of her main objectives is promoting young Egyptian artists who also face difficulties, especially in finding exhibition spaces. At her opening, Maghawry shared the spotlight with Hassan, whose paintings, she believes, offer a new vision.
Above the jewelry display cases, Hassan's paintings hang on the walls — their bright, joyful colors perfectly in sync with the equally colorful jewelry. With paintings such as "Odd Ball," "Melting" and "Oops, I had a feeling," Hassan expresses many of the issues that have concerned women over the years. Although many artists after the revolution became more focused on tackling political issues, he thinks representing social issues is also important.
Hassan says he was delighted to particpate in the gallery. "I liked the idea that Dina wanted to combine between different kinds of arts. This allowed us to blend the classic style she adopts in her jewelry with the modern style of my paintings," he says.
Lina Abdel Ghafar, who attended the gallery opening, says what distinguishes Maghawry from other designers is her ability to express Egyptian culture in both a funky and deep way. "I love the energy behind her designs and I love the expressive colors she uses. I bought an old Egyptian flag bracelet as it's remarkable. I've never seen something like it before anywhere," she says.
On the other side of the production process, Maghawry thinks that focusing on quality instead of quantity, not copying foreign models, encouraging creativity and teaching the craft to new generations could all contribute to developing jewelry handicrafts in Egypt.
She also insists on making jewelry available for everyone by selling it at reasonable prices. "Although a lot of foreigners demand my work, I want to focus more on the local market," she says. "I intend to open galleries in Alex and Aswan soon."