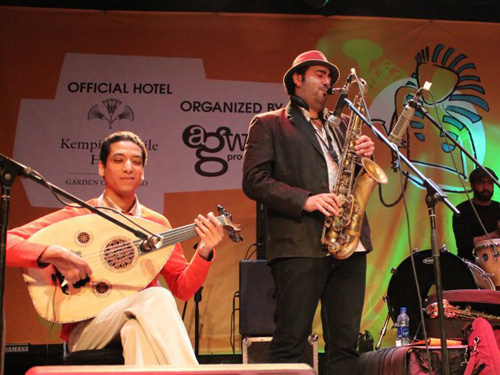 Many people are not aware of Egypt's internationally recognized Free Jazz Ensemble, which was active during most of the second half of the 20th century. Even fewer people know that Louis Armstrong, Duke Ellington and Dizzy Gillespie — three of the best jazz musicians of all time — visited Egypt to perform and meet with local acts, including the Free Jazz Ensemble founded by renowned composer and drummer Salah Ragab.
"Few people know that jazz music was a really important part of Egyptian music culture in the 20th century," says Amr Salah, a professional Egyptian jazz musician who recalls a prominent dance scene that revolved around jazz. Unfortunately it is a genre that has been somewhat lost due to poor documentation of events, as well as continued exodus [of musicians] since 1952."
Although jazz's popularity has somewhat suffered, those who do remember and still play, namely students of former Egyptian and Western greats, are extremely passionate about the genre and hope to bring jazz culture back.
This is why in 2009, Salah founded both the Jazz Society of Egypt and the Cairo Jazz Festival — two staples in Egypt's current jazz scene — to hold up a flag and bring jazz aficionados, both old and new, together.
The Jazz Society of Egypt still lacks a headquarters, so the focus has been on using social networking platforms and the Internet to bring people together and attempt to re-cultivate a local scene.
Society chairman Ahmed Harfoush says one of the most important parts of this is to create awareness and accessibility, and to provide educational programs to those curious about the genre.
"We offer lectures and classes, provide access to music, and also host jazz documentary screenings," says Harfoush, who is also the lead singer for local jazz act The Riff Band.
In June, the society organized "The Jazz Biopic Week," a series of documentaries showcasing famous jazz musicians such as Charlie Parker and Nat King Cole, at Darb 1718 cultural center, accompanied by discussions with Harfoush.
But the society is also thinking bigger, as its members are lobbying the Education Ministry to get jazz at least mentioned in school curricula, both as an art and as part of history. They have also aligned themselves with the Musicians Syndicate. But Harfoush says this brings more harm than good because the syndicate is usually just looking to milk money from musicians.
"We have tried to develop our own syndicate with equal rules and standards. But musicians are still not united in Egypt, which is also something we are working on," he says. "Basically, we are trying from all angles to turn jazz from a nonentity, into a normal and accessible part of Egyptian culture again."
But society members and jazz musicians alike say the greatest success has been to bring jazz aficionados together in order to meet, jam and form groups, ultimately leading to increased live performances across the country, with larger turnouts at concerts — the most important event being the annual Cairo Jazz Festival held in March at El Sawy Culture Wheel.
"I was really impressed by both the turnout and the performances this year, which means the scene is growing, and efforts are working," says Adam Miller, a graduate of the Berklee College of Music in the US who performed as part of the Adam Miller Group at this year's festival.
Miller, who is now a member of the society, came to Egypt a few years ago to teach music at the American University in Cairo, not really expecting to meet any jazz musicians.
"But I did, quickly, and they are usually self-motivated, really good and not jaded about the whole thing like many folks back home. It is kind of inspiring," he says.
Ahmed al-Sherif, a first-time visitor to this year's festival, admits having recently fallen in love with jazz, having always thought of the genre negatively until he saw the live performances.
"It is completely different when you can see what each person is actually doing," he says.
This year's festival was also the first time the society featured the Jazz Nino initiative, a project aimed at encouraging children to come to the festival and interact with jazz musicians and their instruments.
"It is important to plant the seeds for children to discover these beautiful art forms in life on their own, which is something crucial that I think is lacking in Egypt," says Harfoush. "Many children might not even hear much music or see an instrument until they are older and already involved in other things, which is a shame."
However, despite the growing successes of the society and festival, Harfoush believes it is important to keep pushing and branching out.
To do so, the jazz society runs a weekly jazz show every Monday on the online Sound of Sakia radio station. The program features music and information about jazz appreciation.
Also, to try and expand live performance material, Harfoush says a recent project of his has been to incorporate old Arabic classics that have not been forgotten, such as Bob Azzam's "Mostafa," into jazz arrangements, in an attempt to bridge gaps between generations and genres.
"Many times people do not realize that they even know a certain melody that is in their head, like a tune a grandfather used to play," says Harfoush. "Jazz music allows for lots of improvisation and incorporation of many melodies into a single piece. I think that will work well to widen the audience even further."
Harfoush says it is not difficult to survive as a jazz musician in Egypt, adding that playing at weddings and private parties is a necessity. Salah adds that recently, two jazz shows have sometimes been needed to be booked into the same evening because the first one is usually overcrowded.
As of now, the Jazz Society of Egypt still does not have a main office, but hopes to soon be based at Darb 1718, whose founder, Moataz Nasr El Din, is very fond of the initiative. The jazz society is also working to establish a large, online jazz music library, where users can share music and order specific jazz records and classic sets.
"It is growing at its own pace, but I am very optimistic about jazz becoming an established genre in Egypt's future," says Harfoush.
Miller, who is also pushing to set up jazz history classes at AUC, adds that "jazz is music born out of hardship, created by people living under the gun."
"And considering ongoing political difficulties, it can serve as real good music for liberation," he says.
This piece was originally published in Egypt Independent's weekly print edition.