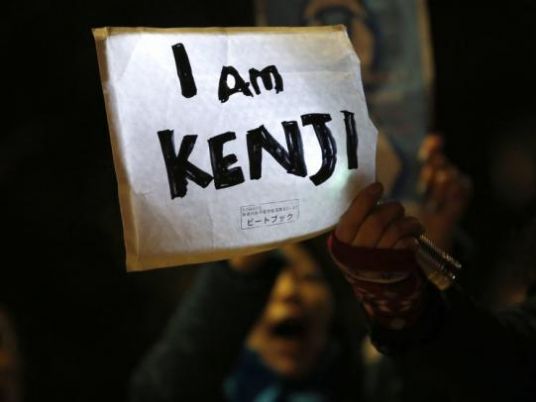 – Japan has vowed to work with Jordan to secure the release of a Japanese journalist held by Islamic State militants after the killing last week of another Japanese captive, but it reiterated that it would not give in to terrorism.
The hostage crisis has become a test for Prime Minister Shinzo Abe, who took power in 2012 pledging to bolster Japan's global security role.
Abe on Sunday condemned the killing of Japanese citizen Haruna Yukawa by the militants as "outrageous" and called for the release of veteran correspondent Kenji Goto, captured by Islamic State militants in Syria.
"We would like to work together with the Jordanian government to secure the release of Goto," Yasuhide Nakayama, state minister for foreign affairs, told reporters in Jordan late on Monday.
Nakayama was sent to Jordan last week to deal with the crisis.
The militants have dropped a ransom demand. They now say they will free Goto in exchange for the release of Sajida al-Rishawi, a convicted Iraqi suicide-bomber, from prison in Jordan.
The hardline militants captured a Jordanian pilot after his plane crashed during U.S.-led coalition bombing in eastern Syria in December and Nakayama said he hoped Japan and Jordan could work together for his release too.
"The release of this pilot as soon a possible is also an issue for us Japanese," Nakayama said.
"Both our nations have to work together to ensure that both the pilot and the Japanese hostage return to their respective homes with smiles on their faces."
Media has reported that the militants were demanding the release of another death-row convict, raising speculation about multiple swaps involving Goto and the Jordanian pilot.
Jordan's King Abdullah was quoted as telling a Jordanian newspaper that the case of the pilot, First Lieutenant Muath al Kasaesbeh, "tops the country's priority".
In Tokyo, Abe told parliament on Tuesday that Japan would do its utmost to save Goto.
"The horrible act of terrorism by ISIL is outrageous and we resolutely condemn it," Abe said, referring to the militants.
"The situation is extremely severe but we'll do the utmost to have Kenji Goto released as soon as possible … We won't give in to terrorism."
Two members of Jordan's parliament told Kyodo news agency on Monday that Jordan may be willing to release al-Rishawi in exchange for Goto and Kasaesbeh.