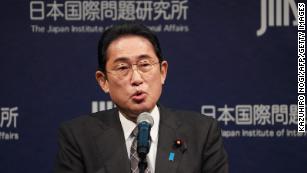 Japan pledged $5.5 billion in humanitarian aid to Ukraine on Monday, nearly quadrupling the amount of money Tokyo has promised to Kyiv since Russia invaded its neighbor nearly a year ago.
"Japan is in a position to lead the world's efforts to support Ukraine in its fight against Russian aggression and to uphold a free and open international order based on the rule of law," Prime Minister Fumio Kishida said Monday.
Tokyo had previously pledged to send Kyiv $600 million in financial assistance and $700 million worth of humanitarian aid including medical supplies and food assistance. It also joined Western allies in imposing strict sanctions on Russia over its invasion.
Last summer, Kishida said in a speech that Russia's invasion gave warning that "Ukraine today may be East Asia tomorrow" — and he echoed that language Monday.
"Russia's aggression against Ukraine is not just a European matter, but a challenge to the rules and principles of the entire international community," he said.
Nuclear "threat": Kishida also announced on Monday that he will host an online summit of G7 leaders with Ukrainian President Volodymyr Zelensky on Friday, the first anniversary of Moscow's invasion and ahead of the annual G7 summit in Hiroshima in May.
The Japanese leader said Hiroshima was an appropriate venue for the summit as the city was the site of an atomic bombing during World War II and Moscow's invasion of Ukraine is raising new nuclear fears.
"Due to Russia's actions, the world now faces a real threat from nuclear weapons," Kishida said. "It is important to convey the reality of the atomic bombings to the world, including the G7 leaders, as the starting point for all efforts toward nuclear disarmament."