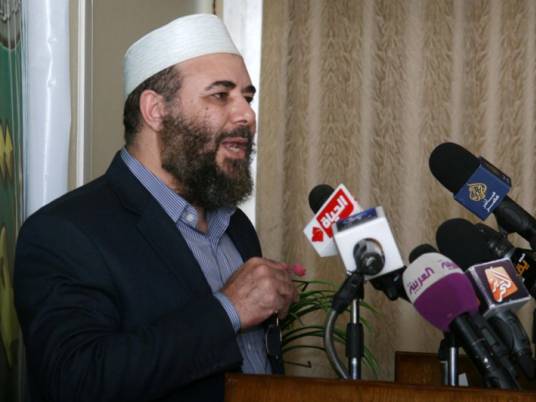 Jama'a Islamiya on Wednesday rejected the statement issued by the Cabinet that described the Rabaa al-Adaweya and Nahda square sit-ins as a threat to national security, and that mandated the interior minister to take necessary action in this regard.
In a statement, the group said that "the old ministers of the government, who are knocking on their graves' doors, will shed blood under the pretext of a false claim of a mandate granted to them by a few hypocrites, with their media clowns portraying the honest opponents of the bloody military coup as terrorists."
The statement added that "the persistent criminality of the government of the coup amounts to brazen terrorism against the people using the army, an institution that is supposed to defend the people from their real enemies. The first battle that the army has fought in a long time has been against its own people. And the police, who have hired thugs for a whole year to terrorize citizens, are spreading blood and murder rather than security and safety."
It went on to say that "the attempt to impose the will of the bloody military coup on the people will trigger chaos, and the commander of the coup, the figurehead president, and the interior minister will be responsible for it."
The statement called for safeguarding legitimacy and responding to initiatives put forward by politicians, stressing that this unwise and reckless decision will only make the protesters more determined, until the coup falls and legitimacy is reinstated.
It also called on the "honorable" members of the army and the police not to get involved in such bloodshed, whatever the justifications and claims from the coup leaders that the sit-ins are a threat to national security and amount to terrorism. "These are peaceful protesters, while real terrorism occurs when the military is involved in politics and kills worshippers praying outside the Republican Guard headquarters," the statement concluded.
Edited translation from Al-Masry Al-Youm