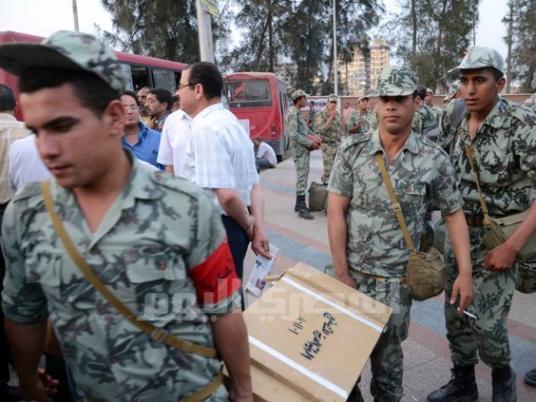 Members of Jama'a al-Islamiyah and it political arm criticized the Supreme Constitutional Court Wednesday for upholding a ban preventing certain citizens from running for public office.
On Monday, the SCC said five articles in the draft elections law were unconstitutional, and tasked the Shura Council to amend the legislation. The court also said candidates must prove they were exempted or denied military service because they were the only son, were the sole financial provider for their family or had a physical or mental condition preventing them from enlisting.
The Islamist group said the decision undermines the rights of thousands of citizens who were not allowed to serve in the military under Hosni Mubarak due to their religious political affiliation. Some were unfairly imprisoned by the state over supposed national security concerns, while others did not register for military service over fear they would be targeted by police for their Islamist leanings.
Military service is mandatory and dodging it is against the law.
Essam Derbala, head of Jama'a al-Islamya's Shura Council, was quoted by privately-owned Al-Mesryoon newspaper Wednesday saying the elections law article in question discriminates against people wrongfully jailed or persecuted for belonging to Islamist groups during the Mubarak era.
He added that the dissolved State Security Investigation Services kept close tabs on those it considered security threats and compiled reports and watch lists. These reports were then used against citizens to deny them the right to serve in the military or force their imprisonment.
Although some Islamist groups have radical roots, most have renounced violence in recent years and distanced themselves from militant groups operating in the region.
In a statement Wednesday, Jama'a Islamiya said the SCC decision undermines citizens who opposed the Mubarak government or were questioned, tortured or jailed on politically motivated charges by intelligence officers.
It added that the ban represents a danger for opposition groups and parties since it infringes on political expression freedoms.
The organization called on the National Human Rights Council, the Shura Council and president's office to renege the ruling it described as a "blatant violation" of the rights of thousands of citizens.
Meanwhile, Sobhi Saleh of the Muslim Brotherhood told Al-Jazeera Mubasher Misr on Tuesday that the Brotherhood has no problem with the ruling of the SCC.
Edited translation from Al-Masry Al-Youm