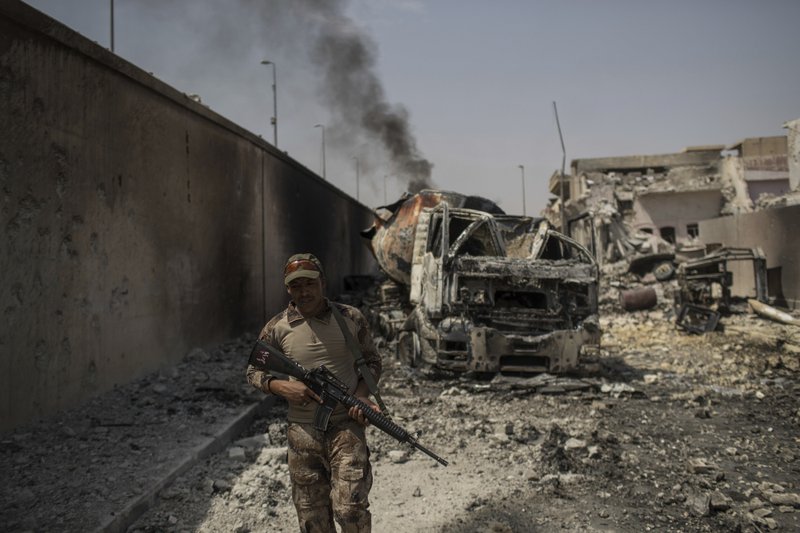 Italians voted Sunday in one of the most uncertain elections in years and one that could determine if Italy will succumb to the populist, euroskeptic and far-right sentiment that has swept through Europe.
The campaign was marked by the prime-time airing of neofascist rhetoric and anti-migrant violence that culminated in a shooting spree last month against six Africans. While the center-right coalition that capitalized on the anti-migrant sentiment led the polls, analysts predict the likeliest outcome is a hung parliament.
That will necessitate days and weeks of back-room haggling and horse trading to come up with a coalition government that can win confidence votes in Parliament. Just which parties coalesce from among the three main blocs — the center-right coalition, center-left coalition and the anti-establishment 5-Star Movement — will determine Italy's course.
"Basically it is very likely that, at the end of the day, none of these three groups will have an absolute majority and they will be forced to start talking to each other and see how to put together a coalition government," said Franco Pavoncello, dean of the John Cabot University in Rome.
More than 46 million Italians were eligible to vote from 7 a.m. to 11 p.m. (0600-2200GMT), including Italians abroad who already mailed in ballots. Exit polls were expected after polls closed, projections sometime thereafter and consolidated results Monday.
With unemployment at 10.8 percent and economic growth in the eurozone's third-largest economy lagging the average, many Italians have all but given up hope for change. Polls indicated a third hadn't decided or weren't even sure they would vote.
"The situation is pretty bad," said Paolo Mercorillo from Ragusa, Sicily, who said he had decided not to even bother casting a ballot. "There aren't candidates who are valid enough."
The 5-Star Movement hoped to capitalize on such disgust, particularly among Italy's young, and polls indicated the grassroots movement launched in 2009 by comic Beppe Grillo with the mantra for Italy's political establishment to "(expletive)-off" would be the largest vote-getter among any single party.
But the 5-Stars weren't expected to win enough to govern on their own, and they have sworn off forming coalitions. The movement's leader Luigi Di Maio has recently suggested he would be open to talking with potential allies, however.
Analysts predict the only coalition with a shot of reaching an absolute majority is the center-right coalition anchored by ex-Premier Silvio Berlusconi's Forza Italia party. The coalition includes the anti-migrant League and the nationalistic, neofascist-rooted Brothers of Italy party.
Berlusconi, 81, can't run for office because of a tax fraud conviction, but he has tapped European Parliament President Antonio Tajani, considered a pro-European moderate, as his pick if the center-right is asked to form a government.
League leader Matteo Salvini is gunning for the top job too though, and some pro-European analysts envision a possible "nightmare scenario" of an extremist alliance among the 5-Stars, the League and Brothers of Italy. The presence in Rome this weekend of Steve Bannon, right-wing populist architect of Donald Trump's White House campaign, was an indication of the stakes.
Roberto D'Alimonte of Rome's LUISS University said such an outcome would be "catastrophic" for the markets. But he said the 5-Stars will have to decide if they're going to join the right or the left if they're going to move from their longtime perch in the opposition to actually help govern.
"This will be the moment of truth," he said.
With polls showing the center-left trailing, Democratic Party leader Matteo Renzi and the current premier, Paolo Gentiloni spent the final days of the campaign warning that the only way to guard against a turn to populists and extremists was to vote for the Democrats. Because Renzi alienated so many in the coalition, Gentiloni has been cited as a possible candidate for premier who would even be acceptable to some in the center-right.
A new law passed last year, ostensibly to make Italy more governable, calls for a combination of direct and proportional voting for both the lower Chamber of deputies, which has 630 seats, and the Senate, which has 315 seats.
A few quirks could affect the outcome, particularly for the 5-Stars.
For starters, the names of about a dozen 5-Star candidates will appear on the ballot, but they no longer represent the party. After party lists were finalized, these 5-Stars were kicked out for a variety of sins. If they actually win, other parties can woo them away to beef up their own ranks.
Analysts have also warned that the ballot itself might confuse voters and result in a higher-than-usual percentage of invalid votes.
While European capitals and Brussels were watching the outcome for its effects on policy and markets, some in Italy had more at stake personally. Even the three-time premier Berlusconi vowed in the heat of the campaign to repatriate 600,000 migrants if the center-right wins.
"Yes indeed I fear these results because I have arrived here with all my thoughts and dreams," said Musab Badur, an asylum seeker from Sudan who is living in a Milan shelter. "And I never thought that one day maybe I would have to go back or anything like that."