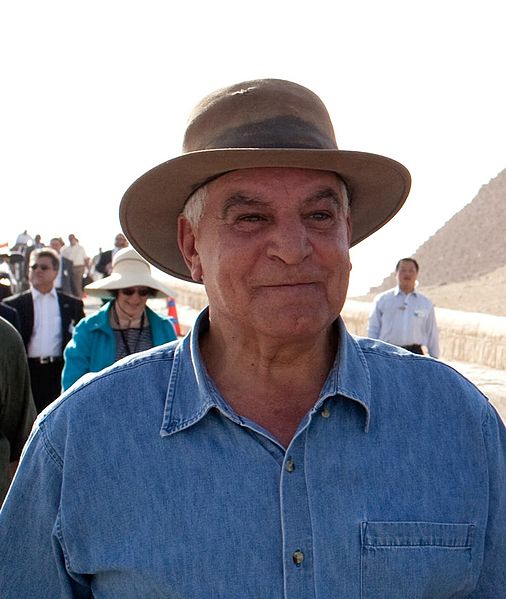 The mayor of the Italian city of Cortona announced that it has named Egyptologist Zahi Hawass as "Man of the Year", given his archaeological discoveries and role in preserving antiquities and world heritage.
The announcement was made during a major cultural festival organized in Cortona during which Hawass gave a lecture on the recent archaeological discoveries in Egypt.
Hawass said that Egypt has recently made even more archaeological discoveries which have astonished the whole world,

He also talked about the discovery of the lost golden city in Luxor, and the discovery of the Queen Nearit funerary temple, the wife of King Teti, the first king of the Sixth Dynasty in Saqqara. He is currently searching for the tomb of architect Imhotep in Saqqara and the tomb of the Queen Nefertiti in Luxor.
Hawass noted the strong relations between Egypt and Italy present since ancient times, and invited the Italian people to visit Egypt.
In April, Secretary General of the World Tourism Organization (UNWTO), Zurab Pololikashvili appointed Hawass as an ambassador for world tourism – becoming the first Egyptian appointed to this position.
Hawass also became the first Arab winner of the the Carrick Foundation's golden medal in Serbia in September 2019. He shared the prize with a Greek singer, an Italian writer, an Italian journalist, a Czech journalist and a French film director.

The Egyptian archeologist was also considered the first African to snag the prize.
Hawass has been listed by National Geographic as an Explorer in Residence, and was also included among the world's Top 100 Most Influential People of 2005 by TIME Magazine.
He also wrote the book "Asrar Masr" (Secrets of Egypt) in 2019, which offers detailed explanations of the touristic sites of Egypt, such as Luxor's Valley of the Kings and Fayoum's Wadi al-Hitan. The book also recounts the history of ancient Egyptian streets, churches, mosques and coffee shops dating back to the Islamic and Coptic eras.