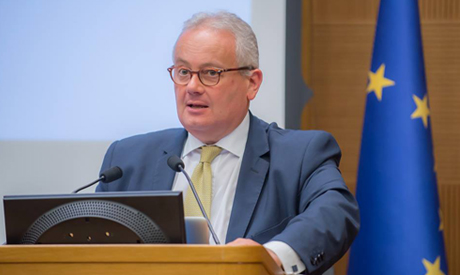 The new Italian ambassador to Egypt, Giampaolo Cantini, submitted Thursday his credentials to Ambassador Ayman Moshrafa, assistant deputy minister of foreign affairs. After the meeting, he met with the Egyptian Ambassador to Italy, Hesham Badr.
Cantini also met with members of the Italian diplomatic mission in the headquarters of the Embassy of Italy in Cairo and started his work in the morning.
Italian Prime Minster Paolo Gentiloni decided in August to return Ambassador Giampaolo Cantini back to Cairo four days after the killing of an Egyptian engineer in Marsa Alam by an Italian tourist.
Italy also recalled its Ambassador to Egypt , Maurizio Massari, in April 2016, for consultations over the murder of Regini in Egypt.
 Translation edited from al-Masry al-Youm