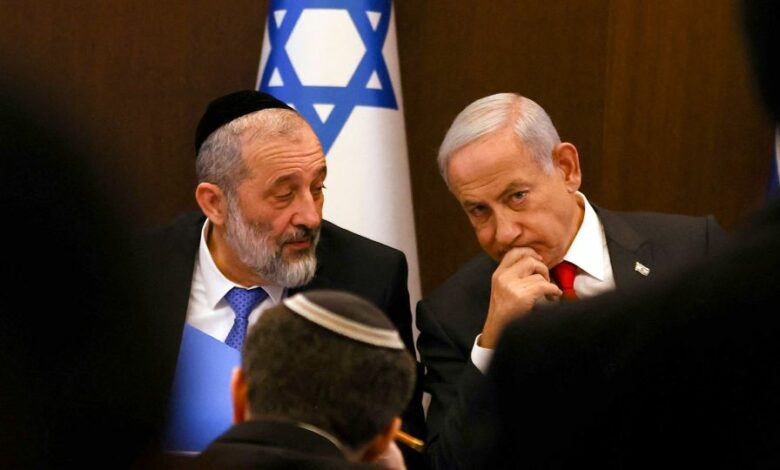 Jerusalem
CNN
 —  Israel's highest court this week ordered Prime Minister Benjamin Netanyahu to fire
a key ally
, a dramatic move amid an unprecedented confrontation between his government and the judiciary.
The High Court ruled 10-1 on Wednesday that it was unreasonable for Aryeh Deri, leader of the Sephardic ultra-Orthodox party Shas, to serve as a minister. He was appointed interior and health minister just three weeks ahead of the ruling.
But so far, Netanyahu has not taken any action, as political tensions mount. Israel media reported Friday Deri and Netanyahu are in the midst of negotiations over the situation.
Deri has several convictions on his record, most recently on tax charges. Last year he struck a plea bargain with the courts, which saw him serve a suspended sentence after he resigned from parliament and pledged not to return to public office.
Under Israeli law, people convicted of crimes cannot serve as ministers. But Netanyahu's government passed an amendment to that law earlier this month that essentially created a loophole for Deri.
In Wednesday's ruling, the justices narrowly focused on Netanyahu's appointment of Deri despite his assertion he would leave political life as part of the deal for the suspended sentence.
But less than a year after that plea bargain was struck, Netanyahu has now been told he needs to fire Deri – whose 11 seats in parliament he needs to stay in power.
"This is a dramatic decision. The decision is aimed at the prime minister, not Deri," said Yaniv Roznai, an associate professor and co-director at the Rubinstein Center for Constitutional Challenges, Reichman University in Israel.
Since the ruling, Netanyahu hasn't reacted much beyond going to see Deri and issuing general words of support. CNN has reached out to his office for further comment.
"When my brother is in distress – I come to him," Netanyahu said as he went to visit Deri after the ruling on Wednesday.
In a joint statement the same day, the heads of the coalition parties led by Netanyahu's party Likud said: "We will act in any legal way that is available to us and without delay, to correct the injustice and the serious damage caused to the democratic decision and the sovereignty of the people."
Deri has seemingly vowed to find a way around the ruling, proclaiming: "They will close the door for us, we will enter through the window. They will close the window for us, we will break through the ceiling."
But most political and legal experts believe it's extremely unlikely that Netanyahu or Deri would defy the court's ruling, or that Deri will pull his Shas party out of Netanyahu's coalition, a move that would cause the government to fall.
Yonatan Green, executive director of the Israel Law and Liberty Forum, told reporters in a briefing that while he thinks Netanyahu is expected to follow the court order in this case, it sets the stage for future defiance.
"Each successive case of this kind probably brings us a little bit closer to that particular brink," Green said.
And so experts say one of the most likely paths forward is for Netanyahu to fire Deri, and for the government to bulldoze through judicial reforms that it has already announced.
Judicial reform
The Deri ruling comes amid an ongoing battle that has been raging over the judiciary. Netanyahu's justice minister, Yariv Levin, announced in early January a series of judicial reforms that would give parliament (and by extension the parties in power) the ability to overturn supreme court rulings, appoint judges, and remove from ministries legal advisers whose legal advice is binding.
If parliament gets such powers, it could create a path for Deri to return. But critics say it could also help Netanyahu end his ongoing corruption trial. Netanyahu has repeatedly denied in multiple interviews that the changes would be for his own benefit.
Backers of the reforms have long accused the high court of overreach and elitism. They say the changes would restore balance between the branches of government.
But opponents including former Prime Minister Yair Lapid and the President of the Israeli supreme court Esther Hayut say it will erode Israel's independent judiciary, weaken the checks and balances between the branches and spell the beginning of the end of Israel's democracy.
"If Aryeh Deri is not fired, the Israeli government is breaking the law. A government that does not obey the law is an illegal government," Lapid tweeted.
It was these proposed judicial reforms that drove some 80,000 people onto the streets of Tel Aviv in pouring rain on Saturday to protest the changes.
Organizers hope the protest spurs a movement and mounting public pressure on Netanyahu to back off or limit the scope of the proposed reforms.