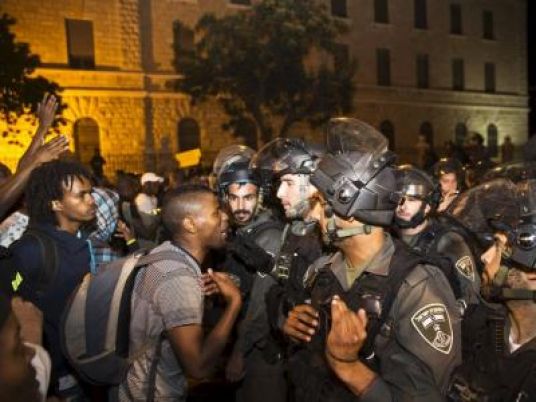 Hundreds of Israeli Jews of Ethiopian origin blocked a main Tel Aviv road on Sunday, stepping up anti-racism protests triggered by a video clip that showed policemen shoving and punching a black soldier.
"There is no white. There is no black. There are just people," the demonstrators chanted, marching onto the Ayalon highway, a central artery of Israel's commercial capital.
Police, who diverted vehicles away from one section of the road, did not immediately confront the protesters but said they would move in if their orders to disperse were ignored.
Tens of thousands of Ethiopian Jews were airlifted to Israel in dramatic, top-secret operations in the 1980s and 1990s after a rabbinical ruling that they were direct descendants of the biblical Jewish Dan tribe.
The community, which now numbers around 135,500 out of Israel's population of over 8 million, has long complained of discrimination, racism and poverty.
Tensions rose after an incident a week ago in a Tel Aviv suburb where a closed circuit video camera captured a scuffle between a policeman and a uniformed soldier of Ethiopian descent.
Two policemen were suspended on suspicion of using excessive force. Israeli politicians, stung by community leaders' comparison of the incident to police violence against blacks in the United States, scrambled to defuse tensions.
Prime Minister Benjamin Netanyahu, taking time out from the final days of negotiations with political parties on forming a coalition government, said he would meet Ethiopian activists and the soldier on Monday.
Ethiopian Jews have joined the ranks of legislators and the officer corps in the country's melting pot military. Official figures show the community lagging behind more veteran Israelis.
Ethiopian households earn 35 percent less than the national average and only half of the community's youth receive high school diplomas, compared with 63 percent for the rest of the population.
At a protest by Ethiopian Jews on Thursday in Jerusalem, police used water cannon to keep angry crowds away from Netanyahu's residence, and at least 13 people were injured.