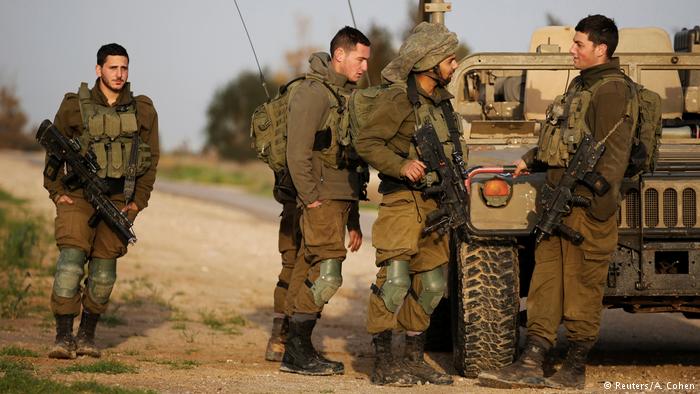 Israeli jets pounded the Gaza Strip on Saturday after four soldiers were injured in an explosion along the border fence of the Palestinian enclave.
The four soldiers were wounded, two of them seriously, when they approached a Palestinian flag along the border fence and an improvised explosive device blew up, the Israeli military said.
In response, a tank struck an observation post in the vicinity believed to belong to the militant Palestinian faction, Islamic Jihad.
The Israeli military said it believed the Popular Resistance Committee in Gaza, an umbrella group of hard-line factions, planted the flag a day earlier during demonstrations in the area, Haaretz reported.
Israel blames Hamas for any attack emanating from the enclave it controls.
In response to the blast earlier in the day, airstrikes struck "six military targets in Gaza belonging to Hamas, including: a terror tunnel in the Zaytun area and military compounds near Deir el-Balah and Khan Yunis," the army said.
Palestinian sources said there were no injuries or deaths from the airstrikes.
Israeli Prime Minister Benjamin Netanyahu, in Germany for the Munich Security Conference, described the border incident as "severe."
"We will respond accordingly," he said.
Hamas has blamed the "Israeli occupation for the escalation in the Gaza Strip," a spokesman said.
After the Israeli airstrikes, a rocket was fired into the Jewish state. Rockets are usually fired not by Hamas, but by other groups.
Concern of a new Hamas-Israel war
The border incident is the most severe since Israel launched a devastating war against Gaza in 2014. The two sides have fought three wars since 2008.
Saturday's incident comes amid concern over the humanitarian situation in Gaza, which has for years been under Egyptian and Israeli blockade.
Echoing the concern of other army officials, Israeli Army Chief of Staff Gadi Eisenkot last week warned the cabinet that the Gaza Strip could collapse due to the humanitarian situation.
He said the situation in Gaza could cause an outbreak of conflict between Hamas and Israel, particularly as demonstrations along the border fence have grown in recent weeks.
Dozens of Palestinians demonstrators have been injured in recent weeks along the border fence with Gaza, with the Israeli army using live fire to disperse protesters.
Army officials have expressed concerns the demonstrations could lead to clashes and escalate into a new war.
The prospect of a renewed conflict with Hamas comes as tensions are high between Israel and the Lebanese Shiite group Hezbollah and its chief backer Iran in Syria.