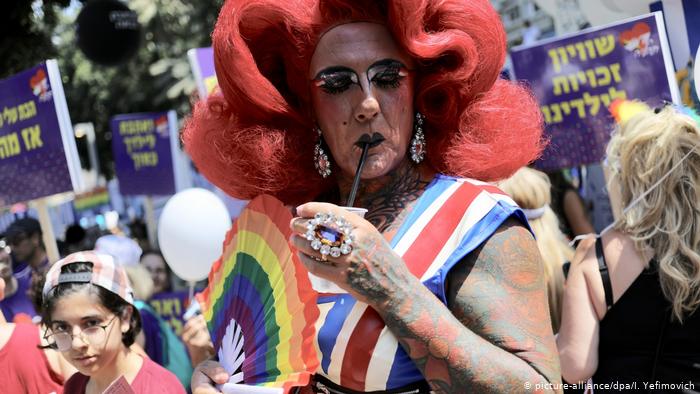 Israeli Prime Minister Benjamin Netanyahu on Sunday censured his new education minister for promoting the use of gay conversion therapy during a television interview.
Rafi Peretz, who leads a small far-right religious party, said he supports the controversial technique. Conversion therapy can often involve hormonal treatment, aversive techniques and religious/spiritual peer pressure.
Asked by his Channel 12 interviewer if he believes it is possible to "convert" homosexuals, he responded: "I think it is possible. I am deeply familiar with the subject of education."
Read more: Gay 'conversion therapy' — trauma for LGBTQ teens
Peretz, a former chief rabbi in the Israeli military, also admitted that he had performed the therapy.
He described how a student approached him and told him he was gay. Peretz said he then sought to help him "understand himself well and then decide on his own."
Chief Rabbi, Brigadier-General Rafi Peretz heads the far-right Jewish Home party
Netanyahu swiftly condemned the comments, saying that "Peretz's remarks about the LGBT [lesbian, gay, bisexual, transgender] community are unacceptable to me and do not reflect the stance of the government I lead."
"I spoke this evening with Rabbi Rafi Peretz, who clarified his comments and emphasized that the Israeli education system will continue to accept all the children of Israel, whoever they are, regardless of sexual orientation," the PM tweeted.
'Comments taken out of context'
Peretz said in a Facebook post on Sunday that his comments had been distorted for political purposes.
Read more: Israelis protest surrogacy law that excludes single men and gay couples
Hundreds of people demonstrated in Tel Aviv on Sunday, calling on Peretz to resign.
Etai Pinkas-Arad, a Tel Aviv city councillor in charge of LGBT affairs, called on Peretz to be fired.
He "shouldn't be holding this position any longer, or relevant position in the future," he said.
Most mainstream mental health professionals reject the idea of gay conversion therapy as scientifically dubious and even harmful. Several countries have passed laws to ban the procedure. Germany, where there is estimated to be 1,000 cases of the therapy every year, is also considering a ban.
Read more: Germany: Gay conversion 'therapy' ban presented
Peretz also caused outrage earlier this month over reported comments to a cabinet meeting.
Israel's Channel 13 reported that he told ministers that Jewish intermarriage and assimilation, particularly in North America, are like a "second Holocaust."
mm/se (AFP, AP, dpa)