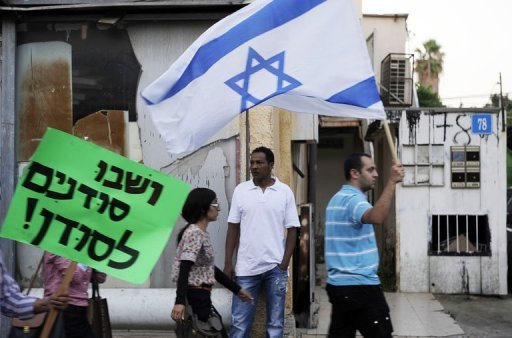 JERUSALEM – Israel has struck a deal to deport up to 2,000 illegal Eritrean immigrants to an unnamed African country in return for supplying it with military aid, the Yediot Aharonot newspaper said on Wednesday.
The paper said that, under an agreement in principle, the country will take 1,500-2,000 Eritreans currently in Israel in exchange for military, technological and agricultural aid.
On Monday, a high-ranking Israeli official told the Supreme Court an agreement was about to be reached with the country in question for the deportation of Eritrean immigrants.
While the country was not named, Yediot said the understandings were cobbled together by Prime Minister Benjamin Netanyahu's special envoy, Haggai Hadas, after he visited a number of countries in the past two months, including Ghana, Ethiopia, Kenya, Malawi, Nigeria and Uganda.
Of some 60,000 illegal African immigrants in Israel — more than half of whom are from Eritrea — around 2,000 are being held in a detention centre. They have applied for refugee status, but their requests have yet to be processed.
Rising tensions over the influx of illegal immigrants from Africa exploded into violence last year when a Tel Aviv protest turned ugly. Demonstrators smashed African-run shops and property, and there was a worrying number of attacks against African.
In a bid to stem the flow, Israel has erected a barrier along its border with egypt. Prime Minister Benjamin Netanyahu has crediting it for a dramatic fall in the numbers of people crossing from egypt, with only two "infiltrators" entering this month.
Under Israeli law, asylum seekers can be detained for up to three years.
The deal to ship immigrants to a third country has prompted concern among rights groups, with the Association for Civil Rights in Israel saying their rights must be protected.
"In order to repatriate or resettle refugees or asylum seekers, there are certain standards that have to be met," ACRI's Marc Grey told AFP.
"They have to go voluntarily to a third country," he stressed.
"And that third country needs to provide assurances they will get refugee status."