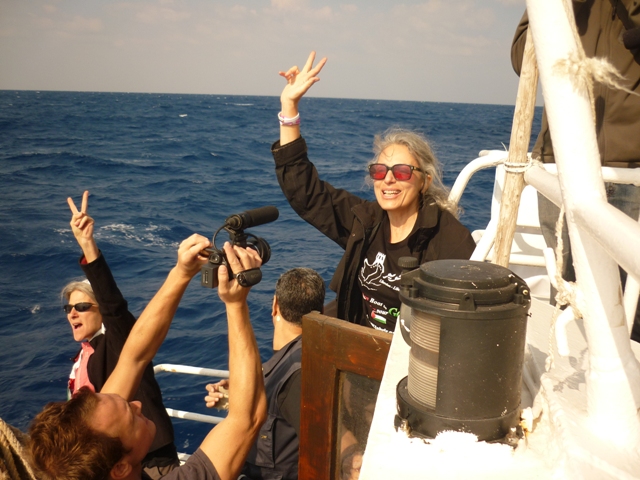 Israeli authorities on Saturday began deporting pro-Palestinian activists who tried to breach the Jewish state's naval blockade of the Gaza Strip. Al-Masry Al-Youm Managing Editor Lina Attalah, who was breifly detained after her boat "Tahrir" was seized, was contacted in Taba, Egypt. She is unharmed.
The Israeli navy on Friday intercepted a Canadian vessel and an Irish boat carrying 27 activists and medical supplies which had set sail from Turkey toward the Gaza Strip.
An Israeli Immigration Authority spokeswoman said two Greek citizens were flown home on Saturday and two journalists, one American and one Spanish, were to board flights on Sunday.
One Israeli citizen was released, as was an Egyptian woman who had crossed back to neighboring Egypt overnight, the spokeswoman said. Twenty one other activists were being held in custody in Israel and were awaiting deportation.
In May 2010, Israeli commandos boarded a Turkish aid vessel to enforce the naval blockade of the Palestinian enclave, and killed nine Turks in clashes with activists, some of them armed with clubs and knives.
There were no injuries in the interception of the two boats on Friday.
Israel has blockaded Gaza since the Islamist group Hamas seized control of the territory in 2007, citing the need to prevent weapons smuggling.
A U.N. report on Israel's interception of the Turkish aid ship said the blockade was a "legitimate security measure," but added that Israel had used unreasonable force in its raid on the ship. Turkey expelled Israel's envoy and froze military cooperation with Israel over the Jewish state's refusal to apologize for the killings.
Pro-Palestinian groups behind the latest attempt to reach Gaza by sea condemn the blockade as illegal and inhumane. A spokeswoman for the Irish Ship to Gaza group said on Friday they would continue to send boats until the blockade is lifted.