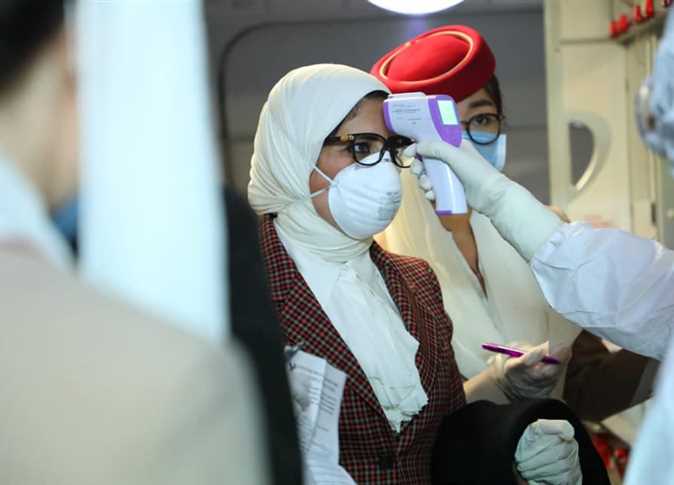 The costs of isolating, conducting medical tests and providing medical services in isolation places for Egyptians returning abroad cost the state LE28 million from May 3 to 9, Minister of Health Hala Zayed announced.
Her remarks came during a cabinet meeting on Wednesday, chaired by Prime Minister Mostafa Madbouly, which reviewed the current situation regarding Egypt's efforts to counter the novel coronavirus outbreak.
These costs involve the trips of stranded Egyptians who have been quarantined at Matrouh, Cairo, the Red Sea, Damietta, Suez, Port Said, Aswan, South Sinai, Alexandria, and Giza.
Zayed reviewed the coronavirus's infection rate per million cases throughout the country, with a comparison made between case numbers transferred from sorting hospitals to isolation areas and hostels from May 6 to 12.
The comparison found that isolation hospitals received 59 percent of the cases while hostels held 41 percent.
The average days of isolation in the following hospitals was 11.6 days: Sadaka in Aswan, May 15, Negila, Abu Khalifa, Al-Agamy, Esna, Qaha, Balteem, Agouza, Temay al-Amdid , Zayed Al-Nahyan, Abu Tij, and Heliopolis.
Zayed also reviewed case-recovery ratios by age group, finding that the highest level was in individuals aged 30-39 years at a rate of 318 cases, followed by the 40-49 years age group with a recovery rate of 288 cases.
She also looked over the state's plan to maintain health services in the face of the coronavirus crisis, which aims to reduce the infection's spread among citizens in health facilities as they provide basic health services.
Egypt on Tuesday confirmed 347 new coronavirus cases, bringing the country's number of confirmed total cases so far to 10,093.
The total number of COVID-19 deaths has now reached five hundred and forty-four nationwide, after announcing eleven deaths.
The newly infected cases are all Egyptian nationals, Health Ministry Spokesperson Khaled Megahed said, adding that the total number of fully-recovered cases rose to 2,326, all of whom have been discharged from isolation hospitals.
A hundred and fifty-four cases left quarantine on Tuesday.
A total of 2,811 positive cases have been tested in Egypt, with all results now returned negative.
Edited translation from Al-Masry Al-Youm