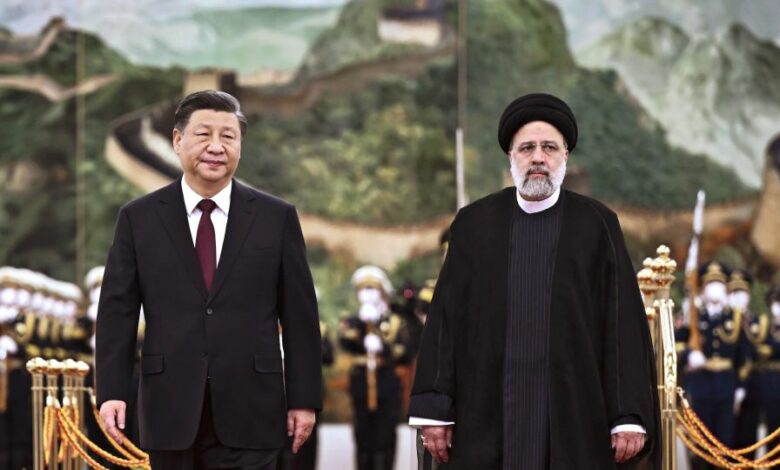 Shortly before leaving for his first state visit to China on Tuesday, Iranian President Ebrahim Raisi issued a thinly veiled criticism of his powerful ally, saying the two countries' relationship has not lived up to expectations.
The first Iranian president to arrive in China on a state visit in two decades, Raisi was keen to tell Beijing that it has not given enough support to Tehran, especially economically.
"Unfortunately, I must say that we have seriously fallen behind in these relations," he said, referring to trade and economic ties. Part of his mission, he said, was to implement the China-Iran Strategic Partnership Plan (CISPP), a pact that would see Beijing invest up to $400 billion in Iran's economy over a 25-year period in exchange for a steady supply of Iranian oil.
Raisi said that economic ties had regressed, and that the two nations needed to compensate for that.
The public criticism on the eve of the landmark trip demonstrated the heavily-sanctioned Islamic Republic's disappointment with an ally that has in many ways become one of its few economic lifelines.
The speech was likely "a reflection of Tehran's frustration with China's hesitancies about deepening its economic ties with Iran," Henry Rome, senior fellow at the Washington Institute for Near East Policy, told CNN. "The same issues that have constrained China-Iran relations for years appear to remain."
Analysts said Raisi's speech was a clear call for China to live up to its end of the relationship, seeking economic guarantees from the Asian power so he can have something to show at home amid a wave of anti-government protests and increasing global isolation.
"The mileage Raisi will get for having a visit is going to be very limited if that visit doesn't produce anything," said Trita Parsi, vice-president of the Quincy Institute in Washington, DC. "The Iranians are not in a position right now in which a visit in and of itself is sufficiently good for them…They need more."
Whether Iran is satisfied with what China offered it, however, is yet to be seen.
"Though more substance may be achieved following the visit, the reality is that Raisi needs both the substance and the announcement of concrete agreements," said Parsi. He added that China, on the other hand, appears to be inclined to "play matters down" as it balances the partnership with its ties with Gulf Arab states at odds with Iran, as well as its own fraught relations with the US.
In a joint statement, both China and Iran said they are "willing to work together to implement" the CISPP and "continue to deepen cooperation in trade, agriculture, industry, renewable energy, infrastructure and other fields."
On Wednesday, Iranian Foreign Minister Hossein Amirabdollahian, who accompanied Raisi to China, said that the two countries agreed to remove obstacles in the way of implementing the CISPP, adding that Iran was "optimistic at the results of the negotiations," according to state news agency IRNA.
Chinese President Xi Jinping also accepted an invitation to visit Iran on a future date.
Raisi's trip comes as Beijing strengthens its ties with Iran's foe Saudi Arabia, and as cheap Russian oil potentially threatens Iran's crude exports to China.
Less than two years after he took power, Raisi's term has witnessed growing isolation from the West – especially after Iran supplied Russia with drones to use in its war on Ukraine – and failed efforts to revive a 2015 nuclear deal that removed some barriers to international trade with the Islamic Republic.
As Western sanctions cripple its economy, Beijing has helped keep Tehran afloat economically. China is Iran's biggest oil customer, buying sanctioned but cheap barrels that other nations would not touch.
Tehran's other ally, Russia, has however been biting into its Asian oil market as China buys more Russian barrels – also sanctioned by the West – for cheap, threatening one of Iran's last economic lifelines.
The visit is therefore a strategic one, analysts say, and an attempt by Iran pull itself back up from domestic instability and worsened isolation from the West.
"(It) is an opportunity for Raisi to try to draw a line under the past five months of domestic unrest and project a sense of normalcy at home and abroad," said Rome.
But Jacopo Scita, a policy fellow at the Bourse & Bazaar Foundation in London, said he did not expect the visit to result in much more than a recognition of China's partnership with Iran.
"Raisi will hardly get much from the economic perspective, except for a new series of memoranda of understanding and some minor deals," he told CNN.
Iran has also been reminding its people that looking eastward is the right path toward economic revival as prospects of returning to nuclear agreement fade, said Parsi. The government has been keen to show that it has "an eastern option" that is supportive and lucrative, he said.
Scita said that China is unlikely to live up to Iran's expectations, however.
"I don't believe that Beijing can offer guarantees to Tehran except a pledge to continue importing a minimum amount of crude regardless of the global market situation and China's domestic demand," he told CNN.
How Raisi's visit will be received back at home remains unclear. If the trip yields no concrete results in the coming days, then Iran's move eastward could prove to be "a huge strategic mistake that the Raisi government has really rushed into," said Parsi.
Additional reporting by Adam Pourahmadi and Simone McCarthy