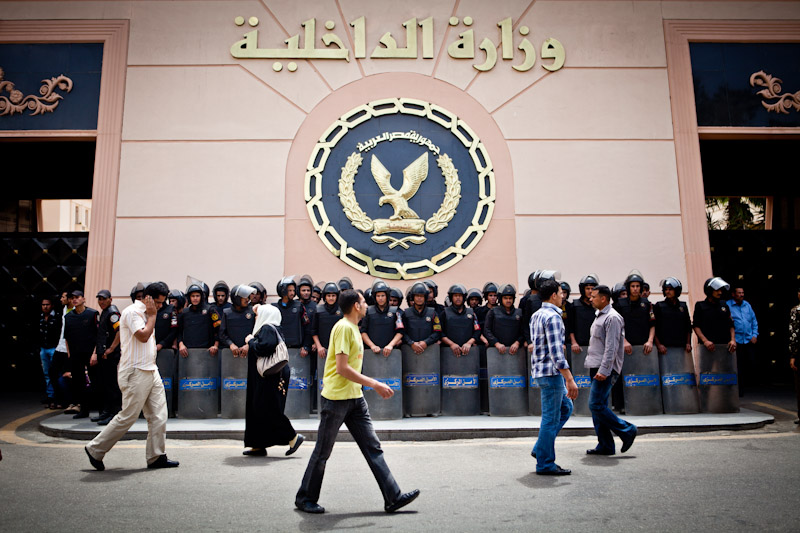 Leaders of the Jamaa Islamiya and the Jihad Organization have threatened to besiege and strike the Interior Ministry on this month's commemoration of the Mohamed Mahmoud Street clashes.
They said the Interior Minister Mohamed Ibrahim and Defense Minister Abdel Fattah al-Sisi have been able to dodge lawsuits for their crimes against the supporters of legitimacy.
A source close to the Muslim Brotherhood said Mahmoud Hussein, the group secretary general, told his colleagues Amr Derag and Mohamed Ali Bishr that negotiations for reconciliation have been halted pending the outcome of the commemoration.
The source also said that Hussein is in constantly consulting the international wing of the group with regards to whether the group should escalate action or negotiate for reconciliation.
The source, speaking on condition of anonymity, added that the Brotherhood's London office is organizing demonstrations on the commemoration day, based on reports from the international wing and Brotherhood students and officials in Egypt.
For his part, Yehia Hamdy, coordinator of the Hazemoun Movement, said the movement is organizing demonstrations in Tahrir Square and on Mohamed Mahmoud Street under the slogan of 'No to Military Rule'. "More than 20 Islamist movements are taking part," he said.
Mohamed Hegazy, head of the Jihad Organization's Islamic Party, called on the Interior Ministry and the army to stop arresting supporters of presidential legitimacy to create a better climate for effective negotiations that satisfy all parties.
Mohamed Hassan, spokesperson for the Jamaa Islamiya, blamed the Interior Ministry for the failure of any reconciliation initiative put forward by the Islamists.
On the other hand, the Tamarod Movement said it would not mobilize demonstrators on that day, fearing the Muslim Brotherhood would exploit the situation and spread chaos.
Meanwhile, revolutionary youth movements met at the headquarters of the National Association for Change (NAC) to decide action on that day. They agreed that each movement should autonomously decide if it wishes to participate in the event.
NAC member Alaa Essam called on the movements to hold the commemoration outside the house of Mohamed Gaber (Gika) who died on the first commemoration of the incident.
Also, the pro-Sisi "Complete Your Favor" campaign called for mass rallies in Tahrir Square on that day to support the military in the ongoing "war on terror", Tarek al-Khouly of the Revolutionary Coalition said this might provoke other revolutionary forces and could lead to clashes.
Mohamed Kamal of the Six April Youth Movement accused the Brotherhood and the "Complete Your Favor" campaign of inciting the Mohamed Mahmoud incident, calling them "murderers."
Edited translation from Al-Masry Al-Youm