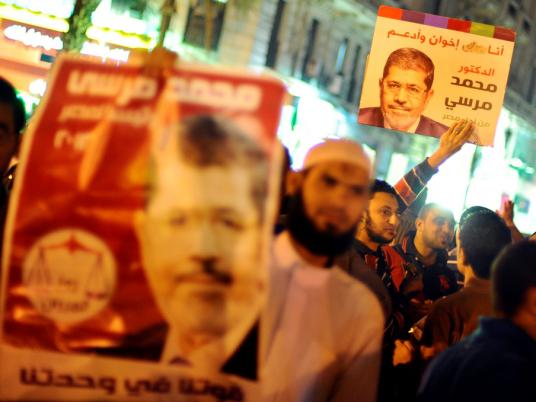 Islamists launched initiatives Tuesday to defend President Mohamed Morsy, who faces mass demonstrations against the constitutional declaration he issued on 22 November.
Tens of thousands participated in protests against what they called the unprecedented powers acquired by Morsy in the declaration.
Political science professor and Morsy adviser Saif Abdel Fattah launched an initiative that includes issuing a new constitutional declaration comprising the first and third articles of the recent declaration. The two articles guarantee retrials for those accused of killing protesters and immunize the president's decisions.
Abdel Fattah claimed that all revolutionary forces agreed on both articles. The initiative included a comprehensive ministerial reshuffle to exclude ministers who had links to the former regime or are suspected of corruption.
The initiative suggested putting to referendum the return of the People's Assembly and Shura Council and retaining the current Constituent Assembly. Abdel Fattah added that the return of the People's Assembly could create power balance and MPs could develop a reform plan for state institutions.
Islamic preacher Amr Khaled launched another initiative that includes modifications to the Constituent Assembly so as to include various national forces that are not currently represented.
A committee including Conference Party head Amr Moussa, Constitution Party founder Mohamed ElBaradei, Popular Current founder Hamdeen Sabbahi, Al-Azhar Grand Sheikh Ahmed al-Tayyeb or his representative, Pope Tawadros or his representative, two representatives from the Freedom and Justice Party and one from the Nour Party would be responsible for choosing a new Constituent Assembly.
Khaled said in a statement issued Tuesday, "It is necessary to form a national salvation cabinet that represents all political forced and includes experts from various fields to … develop a vision for the future and a plan for developing services to address citizen's problems."
Khaled's initiative stressed the need to amend the first, second and third articles of the recent declaration.
Edited translation from Al-Masry Al-Youm