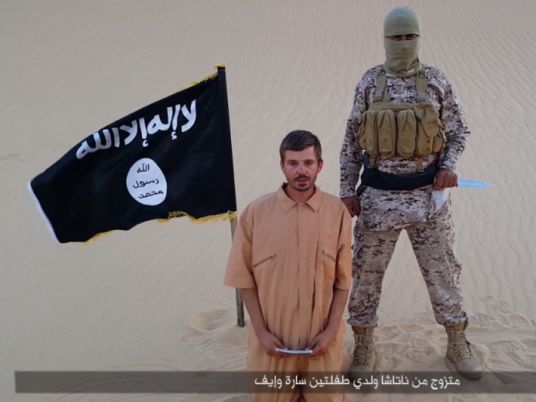 The militant group Islamic State said in an audio broadcast on Thursday that its Egyptian affiliate had killed a Croatian hostage, a day after a photograph of a beheaded corpse purported to be that of the Croat was circulated by the group's supporters.
Egypt's Foreign Ministry said security forces still had "no confirmed information" about the beheading.
The photograph, circulating on Twitter accounts of supporters of the Sinai Province group, showed a man's severed head placed on his body, with the black Islamic State flag in the background.
Next to the picture were screenshots of Arabic news articles with the headlines: "Croatia confirms its support for Egypt in efforts to fight terrorism and extremism" and "Croatia affirms its continued support for the Kurdistan region".
Reuters could not independently verify the authenticity of the picture.
In Thursday's daily audio broadcast of its activities across the Middle East, Islamic State said: "In Sinai Province, the soldiers of the caliphate killed the Croatian captive whose country participated in the war on Islamic State after the deadline expired and both the Egyptian and his own governments abandoned him."
Last week, an online video purportedly from Sinai Province showed a man who identified himself as Tomislav Salopek and said the group would kill him in 48 hours unless "Muslim women" in Egyptian jails were freed.
Egyptian Foreign Minister Sameh Shukri told his Croatian counterpart Vesna Pusic on Wednesday that the authorities were still doing all they could to find and arrest the kidnappers, his ministry said.